What's Next for Troubled Spanish Lender Popular: QuickTake Q&A
By and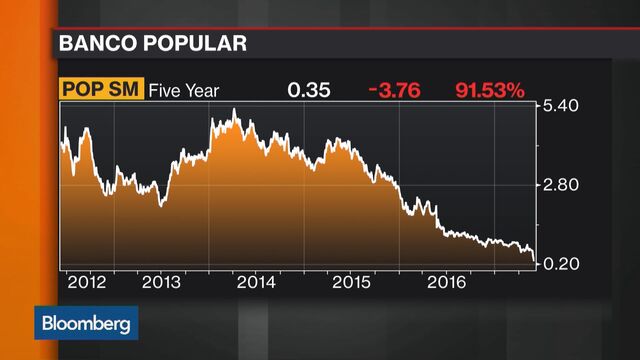 Time is running out for Banco Popular Espanol SA and its efforts to fix a balance sheet loaded with toxic property assets. The Spanish bank's admission that it's short of capital and may seek a buyer sparked a collapse in investor confidence that caused its market value to shrink to well below the value of its last share sale in 2016. The troubled lender is exploring ways to bolster its cash and short-term funds and may request additional central bank loans, a person familiar with the matter has said.
1. How dire is Popular's situation?
It looks bad. The bank's shares fell 44 percent over three consecutive trading days through June 5. Investors are questioning whether Chairman Emilio Saracho's rescue strategy is feasible and whether there's still time to carry it out. Saracho wrote to senior staff to assure them that Popular remains solvent. It's unclear what damage the turmoil has already had in terms of driving away depositors.
2. Can't the Spanish government help?
Possibly. European Union law stipulates that a bank needing "extraordinary public financial support" is failing and should be wound down, but there are exceptions that allow temporary state aid for solvent firms. Under certain conditions, the state can provide guarantees to back new liabilities issued by the lender or liquidity interventions by a central bank. The government also can inject funds into a bank to address a capital shortfall identified in a stress test.
3. Does Banco Popular qualify?
Banco Popular emerged from the EU's 2016 stress test with a fully loaded common equity Tier 1 ratio of 6.6 percent. That's below the 8 percent threshold the European Central Bank applied in the case of Italy's Banca Monte dei Paschi di Siena SpA, meaning a case could be made for a precautionary recapitalization of Banco Popular. Leaving that technical debate aside, a government rescue of Popular might not go down with a Spanish public asked to stomach a 41 billion-euro European bailout to prop up the banking industry in 2012.
4. Does anyone want to buy Popular?
If so, they're keeping quiet about it. Banco Santander SA, Spain's biggest bank, hired Citigroup Inc. to advise it on a potential bid for Popular. But doubts remain over the scale of the cleanup as Popular continues to review the value of its property assets. There also may be legal liabilities facing the bank: Popular said in April that an internal audit had caught some provisioning shortfalls and evidence that loans were made to customers to buy stock in last year's 2.5 billion-euro share sale. Even with its shares down, Popular remains a daunting target for any buyer because of all its soured real estate. For instance, Societe Generale SA said in a report that Santander would need to raise 12.5 billion euros of capital to be able to absorb the lender.
5. What does resolution mean and how would it work?
Resolution is the process of restructuring a bank that's too systemically important to be liquidated in a normal insolvency process. If a supervisor determines that a lender is failing or likely to fail, it gets turned over to the resolution authority. For major banks in the euro area, that's the Single Resolution Board, led by Elke Koenig. The restructuring of the bank is supposed to be funded primarily by imposing losses on creditors, including senior bondholders if necessary, with the possibility of tapping rescue funds accumulated from levies on the industry. The goal is to ensure the continuity of a bank's critical functions such as deposit-taking and lending, and to preserve financial stability without putting taxpayers on the hook.
6. How did things turn so bad for Popular?
Blame missteps in real estate and management. Its woes stem from the loans it made in the years before a housing crash pitched the economy into a five-year slump starting in 2008. Popular then went on to shun the chance to take state aid in 2012 when a stress test uncovered a capital shortfall. Instead, it embarked on a series of share sales that so far have raised 5.5 billion euros without coming close to convincing the market that its property purge is complete. Popular's first-quarter earnings statement showed it still had 37 billion euros of non-performing assets on its balance sheet. The bank's CET1 fully loaded ratio, a measure of solvency, stood at 7.33 percent in March, one of the weakest among European banks.
7. Is Popular's unpopularity contagious?

It doesn't seem to be for now. Spanish lenders including CaixaBank SA and Banco Bilbao Viazcaya Argentaria SA have been issuing additional Tier 1 bonds, their riskiest type of debt, with no problems. While Popular's shares are down 63 percent this year, other Spanish lenders are among the best performers on the STOXX Europe 600 Banks Price Index with Banco Sabadell SA up about 38 percent and CaixaBank up 31 percent.
8. Is there anything to like about Banco Popular?
Plenty. Spanish banks covet its 34 billion euros of performing loans to small and medium-sized enterprises, a high-margin business based on carefully crafted client relationships.
The Reference Shelf
Before it's here, it's on the Bloomberg Terminal.
LEARN MORE