What Profit? Anemia Worsens in S&P 500 as Economy's Bounty Thins
By
About 10 percent of companies in S&P 500 lost money last year

Dearth in profitable shares could be lifting earnings multiple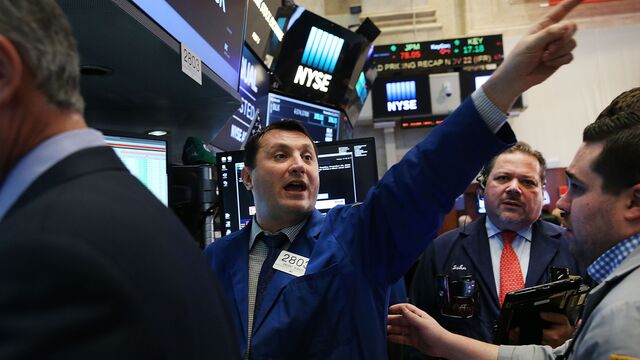 The S&P 500 just posted a third quarter of year-over-year earnings growth. But in the shadow of the rebound is a trend that has been worsening for more than two years: a rising number of profitless companies.
About 10 percent of stocks in the benchmark gauge have posted losses in the last 12 months, an uncharacteristically large portion that has no precedent since 2010, according to data compiled by Bloomberg.
What's to blame? Energy companies are a culprit, unsurprisingly. Of bigger concern are technology and consumer stocks that have crept onto the list. Overall, the 51 companies lost $55 billion over the last year. When the market peaked in 2007, the figure was $22 billion.

"It's unusual this far into an expansion that large-cap companies are losing money," Tom Lee, co-founder and head of research at Fundstrat Global Advisors LLC in New York, said by phone. "Some of these industries are in trouble. But it does speak to how the economy isn't growing fast enough to create universal winners."
Trailing 12-month earnings in the S&P 500 total about $986 billion, or $113 a share, just below an all-time high reached in 2014. Take out the companies losing money and the total hits $1.04 trillion, or $117, the highest ever.
The aggregate number is nothing to sneeze at. Earnings as a whole are in the midst of a three-quarter rebound in which both sales and profits have grown, and total earnings are poised to climb to $130 a share by year-end, according to analyst estimates compiled by Bloomberg.
But while $4-a-share of profits across 51 companies might not scream bear market, it doesn't exactly comport with bull market standards either. It's the widest gap between the two metrics since 2011. And it's almost double the number of stocks without earnings just three years ago.
Among those shares, 23 are energy stocks, and they're responsible for some of the biggest losses. Hess Corp. lost $19 a share in the past year as Chesapeake Energy lost $4.80. In total, energy companies were responsible for $34 billion of losses in the last year.

That leaves $21 billion in losses among the other industry groups. While tech shares weren't the biggest losers by dollar amount, they do make up some of the notable cash-burners. Autodesk Inc. lost $2.45 a share. Yahoo! Inc., Qorvo Inc. and Symantec Corp. also landed in the red this past year.
Investors' perception of unprofitable companies varies greatly by industry. While the shares of the money-losing energy stocks have taken a beating, quite the opposite is true for the tech stocks. Instead, tech shares without earnings are up an average 32 percent in the last year.
Higher share prices on unprofitable stocks may be tied to investors' rush to growth companies this year. The Russell 1000 Growth Index is up 15 percent, compared with a 3 percent climb in the respective value index.
Altogether, the companies are weighing on the S&P 500's performance. The median year-to-date move in shares of companies without profits is 7.3 percent, compared with a 9 percent climb in the S&P 500.
Quotes from this Article
Before it's here, it's on the Bloomberg Terminal.
LEARN MORE