U.S. Threatens to Quit UN Human Rights Body Over Israel 'Bias'
By and
Council focuses on Israel but ignores Venezuela, Haley says

U.S. Ambassador Haley warns council during speech in Geneva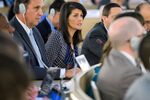 The U.S. is threatening to quit the United Nations Human Rights Council unless the body institutes a series of reforms and stops singling out Israel for criticism, U.S. Ambassador to the UN Nikki Haley said.
"The U.S. is looking carefully at this council and our participation in it," Haley said Tuesday in Geneva. The council has a "chronic anti-Israel bias," having issued five resolutions this year against Israel yet none against Venezuela, which is engulfed in civil unrest.
"If the Human Rights Council is going to be an organization we entrust to protect and promote human rights, it must change," Haley added. "If it fails to change, then we must pursue the advancement of human rights outside this Council."
The Trump administration, which has proposed reducing U.S. funding to the UN, says the council shields repressive regimes such as Venezuela and Iran from scrutiny. Secretary of State Rex Tillerson warned in March that the U.S. will leave the Human Rights Council if the organization doesn't make changes.
Long before the Trump administration, the U.S. chafed at the council's willingness to give seats at the table to countries with reputations for violating basic human rights. President George W. Bush's administration refused to join the council, a decision reversed under President Barack Obama in 2009.
Venezuela's Unrest
Last month, Haley complained about Venezuela's civil unrest and the violations of human rights by the government of Nicolas Maduro at a Security Council session. Venezuela should step down from its seat on the council "until it can get its own house in order," Haley said in Geneva.
Protests in Venezuela since early April have left about 60 people dead, thousands injured and hundred detained. As the nation's economy struggles, people are scrambling to obtain basic goods, food and medicine in a country with the world's biggest oil reserves.
The U.S. shouldn't leave the council, despite its shortcomings, a panel of witnesses told the Senate Foreign Relations Committee in Washington on May 25.
"Threatening to walk away from the council is not going to give us leverage to achieve the reforms we want," Tom Malinowski, former assistant secretary of state, told the committee. "Threatening to leave is like telling a bunch of criminals that if they don't stop robbing banks, the police are going to go on strike. The obvious answer is to dedicate more cops with more resources on the beat, not to cede the field to the bad guys."
Haley suggested that no decision has yet been reached, saying "America does not seek to leave the Human Rights Council. We seek to reestablish the council's legitimacy."
Before it's here, it's on the Bloomberg Terminal.
LEARN MORE