politics
The U.K. Election Winner Will Be Saddled With a Lousy Economic Outlook
By and
June 8 vote comes as headwinds challenge British economy

Victor faces slow growth, stagnating wages, weak productivity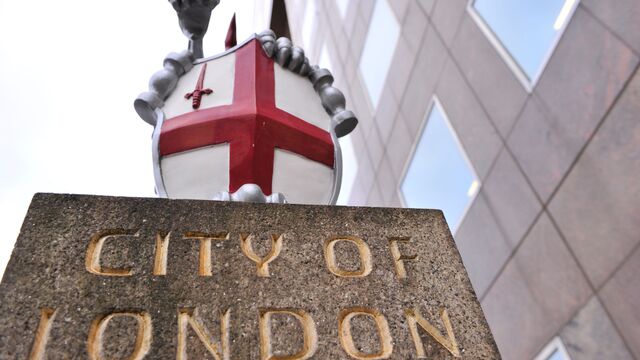 It's not exactly a glittering economic prize for the winner of this week's election: slower growth, tepid wage gains, a depressed currency and a productivity problem that's plagued governments for years.
Those challenges are compounding the disruption that Brexit is heaping on the economy, from faster inflation to concern about future trading arrangements. The Bloomberg Brexit Barometer has fallen in the past six weeks and is now in "windy" territory. Here's what the victor of the June 8 vote will have to contend with in the coming years.

While Prime Minister Theresa May has previously lauded the U.K. for being the fastest-growing Group of Seven economy, that was far from the case at the start of 2017. In fact, you have to go back more than four years to find a weaker performance. The outlook for the rest of the year isn't much better, and Guy Hands, chief investment officer at Terra Firma Capital Partners, says May isn't offering answers.
"They don't know what they're going to do there, so they play around on the fringes," he told Bloomberg Television last month. "It's like watching a business which has a real fundamental problem, and the CEO is saying, 'What packaging should we use?'"
For more politics coverage, subscribe to the Bloomberg Politics Balance of Power newsletter

While slowing growth is one issue, the underlying cause is of even more direct concern to Britain's workers. Not only has the pound's decline since the vote to leave the European Union boosted inflation but, to make matters worse, wage growth hasn't picked up enough to keep pace. That means a drop in real earnings for households.

While wages aren't picking up much, at least there are more jobs around, with the employment rate at a record high and unemployment at the lowest level in more than 40 years. 
But that good news is somewhat tainted by the composition of the labor market, with a dramatic shift toward lower-paying and less secure work. There's more self-employment, so-called zero-hours contracts, and over a quarter of U.K. workers are now part-time, in many cases because they are unable to find a full-time job.

The Resolution Foundation estimates that almost one in five workers will still earn less than 66 percent of what the average worker makes in 2020, despite increases in the minimum wage. 
A weaker economy means less money flowing into the U.K. Treasury, which means less to go around on health, security and social services. The Office for Budget Responsibility downgraded its view of the public finances after the EU referendum last year, making it harder to meet the current government's goal of eliminating the deficit.

Finally, there's weak productivity, which has been hanging over successive governments with each getting no closer to a solution. A plan unveiled by David Cameron's government after the 2015 general election was criticized by a lawmaker committee as "too vague." Without any significant improvement, wage growth is expected to remain underwhelming.
In a report on Wednesday, the OECD said the U.K.'s exposure to international trade has broadly helped the economy, but some industries have suffered and jobs have been lost. It warned that poorer regions, reliant on manufacturing and agricultural exports, are "exposed to the risk of global protectionism, which could lower incomes and raise inequality."
The U.K. needs "stronger policies to ease adjustment," including higher investment in transport, housing and training, it said.

Productivity is still about 16 percent below the G-7 average and it features in both the Conservative and Labour Party election manifestos. Even so, National Institute of Economic and Social Research Director Jagjit Chadha is not optimistic about a solution to what he says, after Brexit, is the U.K.'s biggest economic problem.
"The causes are many and will require concerted coordination by an incoming government," he said in a report published last week. While the answers may include fiscal reform or infrastructure spending, "unfortunately, none of the political parties have addressed the solutions in a wholly convincing manner."
— With assistance by Manus Cranny, Anna Edwards, and Harumi Ichikura
(
Updates with OECD in 11th paragraph.
)
Before it's here, it's on the Bloomberg Terminal.
LEARN MORE