U.K. Election Upset Could Spur Bond Sell-Off as Axa Goes Short
By and
10-year gilt yields could reach 1.70 percent on a Labour win

Analysts rework outlook for government bonds as polls tighten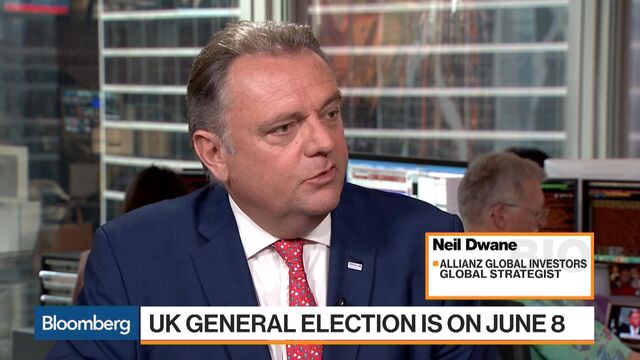 U.K. government bonds could plunge if the Labour Party pulls off a shock upset in Thursday's election, causing yields to almost double.
With the latest polls showing the gap between Prime Minister Theresa May's Conservative Party and Jeremy Corbyn's Labour narrowing, analysts are reworking their scenarios for gilts. Deutsche Bank AG and Citigroup Inc. would turn bearish if the opposition wins, while Axa Investment Managers went short on gilt futures and long U.S. Treasury futures last week, hedging what is still seen as an outlier scenario.

"We expect to see quite substantially higher gilt yields and that is simply because if the Labour party is elected there's an expectation that they are going to invest a lot in infrastructure projects, the NHS, and that will warrant a big pick-up in gilt issuance," said Nicolas Trindade, a senior portfolio manager for Axa, which oversees 747 billion euros ($840 billion) in assets. "It would also mean a steeper yield curve."
Coalition Prospects
May's cushion has shrunk from a lead in polls of over 20 percentage points near the start of the campaign in April, to between 1 point and 12 points now. That leaves the prospect of a hung parliament, where no party has enough seats for an overall majority without a coalition, as unlikely, but possible.
U.K. 10-year yields fell three basis points to 1.02 percent as of 11:05 a.m. London time on Tuesday. The yield has declined 22 basis points so far this year.
For Deutsche Bank, 10-year yields could rise from around one percent now to between 1.60 percent and 1.70 percent by September should Labour win outright, and to between 1.40 percent and 1.50 percent should it form a minority coalition government. The most bullish scenario for gilts would be the Conservatives achieving a smaller majority than they held in the last parliament, which would lift uncertainty and concerns over a so-called hard Brexit, pushing yields down toward 0.9 percent.
Bigger Than Brexit
A Labour win would be "bigger than Brexit" in terms of a political upset, though the market reaction would be more muted, according to Citigroup strategist Jamie Searle. Such a result would make the bank bearish on gilts, predicting a move in 10-year yields to between 1.25 percent and 1.50 percent.
"Labour's plans for nationalizations mean more borrowing," Searle said in a note to clients. The opposition leader has vowed an end to austerity and a boost to infrastructure spending. A Corbyn "win may also encourage the pricing of a softer Brexit, adding to a bearish move," Searle said.
UBS Group AG's base case is a Conservative win, according to John Wraith, its head of U.K. macro rates and strategy. It expects yields to be at 1.10 percent by the end of the year, compared with the median estimate of 1.49 percent in a survey of analysts by Bloomberg. The securities will "significantly outperform" German 10-year bonds as Brexit weighs and the European Central Bank nears tapering, he said.
"Irrespective of what happens in the election, the focus is going to go back on Brexit," said Wraith.
Before it's here, it's on the Bloomberg Terminal.
LEARN MORE