Top Philippine Fund Cuts Cash as Duterte Tax Plan Boosts Stocks
By
ATR Asset fund halves cash holdings, buys more stocks

Philippine stock benchmark only 174 points away from record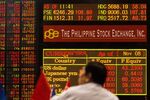 The best stock fund in the Philippines is putting its cash to work, betting the rally in local shares isn't done yet.
The Philippines Stock Exchange Index has climbed toward a record set in 2015, rising 16 percent this year. Gains accelerated in the second quarter amid optimism President Rodrigo Duterte will be able to push through a delayed plan to lower and, also, raise some taxes to help fund projects. On the corporate profits front, more than half of the companies tracked by analysts beat projections.
"I don't think we have seen the market's peak yet for the year," said Julian Tarrobago, head of equities at ATR Asset Management, which has $1.9 billion in assets under management. "Corporate earnings look encouraging" and "the tax reform bill passed a very important hurdle and is moving to final approval."
Tarrobago's ATRAM Alpha Opportunity Fund has returned 28 percent in the past year, the most among the 220 peso-denominated funds covering all asset classes in the Philippines tracked by Bloomberg. He halved the fund's cash holdings to 7 percent from end-2016 as he bought more stocks, favoring infrastructure, consumer-related and bank shares. The three sectors comprise 67 percent of the fund, he said.

The lower house of Congress passed the tax bill on May 31, and lawmakers in the senate will take it up when they return next month. Duterte has certified the bill as urgent.
That's helped overseas investors reverse course and pour $399 million into Philippine stocks since April 1, pushing the stock benchmark to only 174 points away from its 8,127.48 peak in 2015. In the previous six months, foreigners withdrew $1.02 billion.
Tarrobago expects the proposal, which promises lower personal income taxes and higher levies on oil, cars and sugary drinks, to become law this year and implemented in 2018. In its current form, the government expects an additional 130 billion pesos ($2.62 billion).

The bill will boost economic growth by as much as 1.1 percentage points by 2022 as the government spends the proceeds on infrastructure projects, Economic Planning Secretary Ernesto Pernia said last month.
Still, there is a possibility the bill will be watered down in the senate, said James Lago, head of research at PCCI Securities Brokers Corp. That could effect foreign fund inflows and push stocks lower. "At this stage, it's time to take profit on the winners," Lago said.
The rally has made Philippine stocks the most expensive in Asia. The local stock benchmark is valued at 18.4 times forward earnings, compared with 13.8 times for the MSCI Asia Pacific Index.
ATR's Tarrobago remains bullish.
"The Philippine structural growth story will be driven by infrastructure and consumer spending," he said. "Even without the tax reform, the economic growth will still be among the fastest in Asia."
Quotes from this Article
Before it's here, it's on the Bloomberg Terminal.
LEARN MORE