Your Evening Briefing
Here are today's top stories
Bloomberg News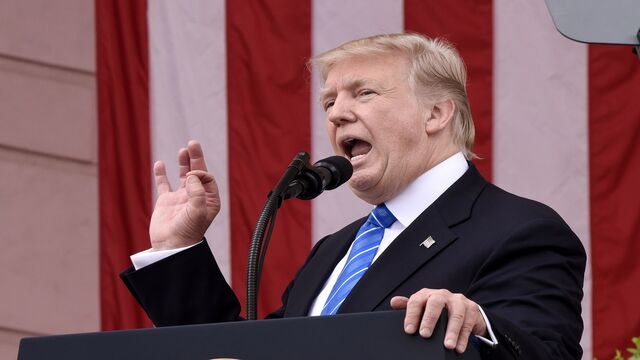 Want to receive this post in your inbox every afternoon? Sign up here.
Good afternoon. Like many other days, today President Trump's tweets made headlines–this time about the isolation of Qatar. In two days, voters go to the polls in the U.K.'s election, which, despite security concerns that threatened to derail the campaign, is really still all about Brexit. And populist politics like Brexit have spurred a new gold rush that's all about vaults. –Emily Banks  
In Trump's White House, everything is coming in "two weeks". From overhauling the tax code to releasing an infrastructure package to making decisions on Nafta and the Paris climate agreement, President Trump has a common refrain: A big announcement is coming in just "two weeks." It rarely does. Trump's habit of imposing–then missing–two-week deadlines for major announcements has become a staple of his administration as it's struggled to amass policy wins.
With just two days left before the U.K. general election, Conservative Prime Minister Theresa May dispatched her foreign secretary Boris Johnson to northeast England to get the most out of traditional Labour strongholds that supported Brexit. Forget projections putting Labour within spitting distance of Conservatives in the June 8 election. Privately, officials and candidates in the U.K.'s main opposition party are preparing to lose dozens of seats.
Trump backed the Saudi-led diplomatic isolation of Qatar. In a series of tweets, he called it just punishment for the country's financial support for Islamic extremists. He also said the action was proof that his meeting with Persian Gulf Arab leaders in Saudi Arabia earlier this month was "already paying off." The crisis pits U.S. allies against each other, disrupting trade, flights and business activity in one of the world's most strategically important regions.
The new gold rush is all about vaults. From safety-deposit boxes in leafy west London to high-security facilities housing gold and silver in Frankfurt, companies that store valuables are expanding to meet demand. A rush into haven assets that began during the financial crisis is getting a new lease on life from an upsurge in populist politics and a quickening of inflation.
Several dozen countries have privatized air traffic control, something the White House is pressing to do. For passengers, though, the paramount question is obvious: Would a private system be any less safe? A look at five countries where private groups handle air traffic shows there aren't necessarily increased safety risks. But that still leaves a number of open questions.
What you need to earn to send your kid to college. When comparing tuition versus cost of living in the U.S., Hawaii requires a salary higher than any other to live comfortably while paying tuition, and Indiana the lowest, according to a study. Of course college is not particularly affordable in the U.S. Even in Indiana, the required salary was well above the state's median household income of $49,255.
This is the future of business-class seats. Business class is replacing first on many airplanes and routes—it's simply a less expensive, less expansive version of first class that still features lie-flat beds, multicourse menus created by celebrity chefs, and amenity kits. It makes room for more seats, which means more money to be made. And the seats in business class are getting technological and ergonomic updates.
Quotes from this Article
Before it's here, it's on the Bloomberg Terminal.
LEARN MORE