South Africa to Establish Committee on Political Party Funding
Jacqueline Mackenzie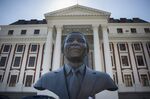 South Africa's National Assembly said it will establish a committee to enquire into and make recommendations on the funding of political parties.
The committee will consider the model of public and private funding for political parties and their investment entities, parliament said in an emailed statement Tuesday. It will consist of 11 members -- six from the ruling African National Congress, two from the Democratic Alliance, one from the Economic Freedom Fighters and two from all other parties represented in the National Assembly.
Before it's here, it's on the Bloomberg Terminal.
LEARN MORE