The Rest of the World Already Builds Infrastructure the Way Trump Wants To
By and
Higher user fees, tolls can prove toxic to politicians

U.S. is 'far behind the curve' on structuring P3 deals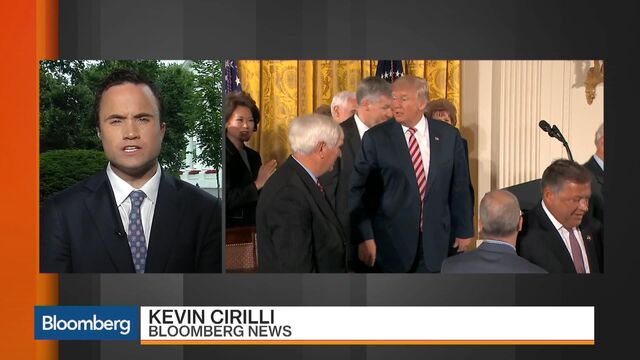 Tapping private money to rebuild America's decrepit infrastructure, the linchpin of President Donald Trump's $1 trillion vision, would be a no-brainer in large parts of the world. Putting capital from the likes of Goldman Sachs Group Inc. and Blackstone Group LP to work on roads, railways and airports has been commonplace globally since the 1990s.
In the U.S., not so much.
QuickTake How 'Self-Help' Guides Trump Infrastructure Plan
"The private-sector people, these are global companies and banks and they know how to do this," said Rick Geddes, director of Cornell University's program in infrastructure policy. "But the United States, I think, is far enough behind the curve that a lot of states and cities lack the skills, they lack the expertise and the understanding."
At an event in Cincinnati on Wednesday that's part of a week-long push for his infrastructure plans, Trump is set to discuss using $200 billion to attract four times that amount from states, cities, and private investors. Gary Cohn, the former Goldman Sachs executive who now leads Trump's National Economic Council, has said such "facilitation" can deliver substantial gains without new taxes.
Private Operators
Doing so would bring the U.S. in line with other developed economies, where a far greater proportion of infrastructure is in private hands. In the U.K., investors including Ferrovial SA and the Qatar Investment Authority own Heathrow Airport; London's water network is run by a consortium of funds. In France and Australia, firms like Vinci SA and the Canada Pension Plan Investment Board build and operate toll roads.
While those deals have in many cases delivered upgraded facilities at reasonable cost, not all of them work out.
Take London's 2003 attempt to overhaul its 150-year-old Tube network. Metronet, a consortium of firms including Bombardier Inc. and Electricite de France SA, was supposed to maintain and upgrade nine lines over 30 years, taking the risks off of government books. But Metronet failed almost from the start to keep up with its promises. When it went bankrupt in 2007, just five years into its contract, taxpayers were left with as much as 400 million pounds ($516 million). London has since put the underground rail system entirely back into public administration.
The reluctance of U.S. politicians to enter into public-private partnerships, known as P3s, stems from a menu of political, financial and regulatory roadblocks.
First, tax-exempt debt, drawing on the U.S.'s deep capital markets, makes them less attractive relative to conventional financing than in other countries. Drawn-out U.S. permitting and design processes also expose projects to the risk of being cancelled. Only 37 of 50 states have laws authorizing some form of P3s, according to Moody's Investors Service.
Political Poison
Perhaps most importantly, the kind of user fees needed to deliver a return to private funders is political poison. Texas, where legislators in early May rejected a plan that would have allowed investors to participate in 18 highway projects worth as much as $30 billion, provides a recent illustration of the phenomenon. There, opponents successfully argued that residents shouldn't have to pay the increased tolls such partnerships would have entailed.
Trump's ability to design an effective infrastructure plan is a critical test of a key campaign promise for a politician who sold himself as a builder who could get things done. Attracting private capital could help resolve a key obstacle to the plan: that major federal infrastructure spending is unlikely to receive a favorable hearing from congressional Republicans, whose legislative priorities hew far more to cutting taxes than deficit spending or raising revenues for infrastructure.
That leaves Trump open to critics who say his proposal will at best fall far short of the investment required -- about $2 trillion in new funds, according to the American Society of Civil Engineers -- and at worst result in a giveaway to Wall Street. Congressional Democrats say they won't support any plan that relies on tax breaks for wealthy investors and that much more direct spending by Washington is needed.
False Promise
"For the White House to pretend that somehow we're going to do this all with P3s is a false promise," said Peter DeFazio, the top Democrat on the House Transportation and Infrastructure Committee. He has proposed raising the federal gasoline tax, which has been frozen since 1993, to pay for new roads and transit. P3s "have the potential to address only a small portion of the nation's infrastructure needs," he said.
Meanwhile, lawmakers representing rural states, like Wyoming Senator John Barrasso -- the Republican chairman of the Senate Environment and Public Works Committee, which would consider any infrastructure plan -- have also argued that P3s won't work in sparsely populated areas, where projects can't generate the same returns as in busy cities.
Traffic Control
To build support for wider plans, Trump's administration is starting with a relatively straightforward proposal: spinning off the nation's air-traffic control system. Canada did the same in the 1990s, creating a non-profit corporation, NAV Canada, that has the ability to finance technological upgrades with bonds backed by fees from airlines.
American air carriers are largely in favor of such a move. "We're all in, and very supportive" of a spinoff, JetBlue Airways Chief Executive Officer Robin Hayes said on Sunday, calling it "an opportunity for the system to work better." Rival Southwest Airlines views the Canadian approach as "the gold standard," spokeswoman Michelle Agnew said, while American Airlines Group Inc. and United Continental Holdings Inc. both said they're eager to work with the administration.
Air-traffic control is an imperfect model, however. Without shareholders, a non-profit entity can charge lower fees than a truly private company. And surcharges on air travelers can be buried in the fine print of existing ticket fees, in contrast to antagonizing citizens with highly-visible revenue-raising tools like road tolls.
To get state and local governments on its side, the Trump administration will need to provide significant incentives, said Geoff Segal, manager of government advisory and affairs at Macquarie Capital USA. That could include payments for "asset recycling," in which a government leases an asset for an upfront payment that can be used for other projects that lack funding, he said.
Still, critics of P3s don't have to look exclusively abroad for examples of what can go wrong. In 2008, Chicago entered a 75-year, $1.2 billion lease for its 36,000 parking meters with a consortium led by Morgan Stanley. That deal was approved only two days after details were revealed, with the money used in part to fill a short-term budget gap. A later inspector-general's report concluded that the city received about $975 million less than it would have received had it hung on to the system.
However improvements are funded, there's little opposition to the notion that America's infrastructure is badly depleted, from crumbling Midwestern bridges to century-old New York rail tunnels that cause regular misery for Manhattan-bound commuters.
"This is something that both parties agree on. If something has a possibility of moving forward, this is the one," said Bill Sandbrook, the CEO of U.S. Concrete Inc., a Texas-based supplier of construction materials that receives about a fifth of its revenue from public-works projects. "Public-private has worked in Europe," he said, and many U.S. projects would benefit from the same approach.
— With assistance by Thomas Black, Michael Sasso, Mary Schlangenstein, and Benjamin D Katz
Before it's here, it's on the Bloomberg Terminal.
LEARN MORE