Mnuchin Seeks Lawmakers' Help to Fix Foreign Investment Panel
By
Cfius panel will keep its focus on national security, he says

Secretary says U.S. will be 'vigilant' on any FX manipulation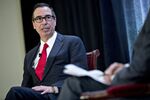 U.S. Treasury Secretary Steven Mnuchin said he wants to maintain national security as the main focus of a government panel that reviews foreign investments, though he's open to working with Congress on technical changes.
"As it related to CFIUS, there are some technical issues and some technical changes that we're working on legislative fixes for," Mnuchin said, referring to the Committee on Foreign Investment in the United States. "Fundamentally we want to keep CFIUS as a national security review and we want to deal with economic issues separately. We don't want to confuse those issues," he said at a moderated forum on China in Washington Tuesday.
Chaired by Mnuchin, CFIUS reviews foreign acquisitions of U.S. companies for national security risks. Mnuchin has previously said that there are parts of the panel that need to be amended, as it should look at joint ventures in addition to mergers and acquisitions.
But lawmakers such as North Carolina Republican and early Trump supporter Robert Pittenger have been pressing the Treasury Department to broaden its purview even further to include foreign investments into so-called "soft power" institutions, such as Hollywood studios. The push came after China's Dalian Wanda Group Co. acquired of a controlling stake in AMC Entertainment Holdings Inc. in 2012.
See how CFIUS gives Mnuchin leverage over China.
The secretary struck an upbeat tone on relations with China during Tuesday's forum, talking up President Donald Trump's relationship with his counterpart Xi Jinping while highlighting progress in opening China's market to American beef, expected no later than July 16. Mnuchin said he and Commerce Secretary Wilbur Ross will host the U.S.-China Comprehensive Dialogue this summer, which will separate economic issues from diplomatic topics.
He said the two countries will continue to negotiate specific trade issues before focusing on talks for a bilateral investment treaty, which would give American companies increased access to Chinese markets.
While Mnuchin said China is no longer depressing its currency, as Trump alleged on the campaign trail, he did caution the U.S. would be watching for any signs of a change in exchange-rate policy.
"It is definitely something we're going to be vigilant about, and make sure that in no way is that used for competitive advantage on their part," Mnuchin said about currency manipulation. "We've had this discussion with the Chinese."
Before it's here, it's on the Bloomberg Terminal.
LEARN MORE