Macron Poised to Sweep French Assembly Vote as Authority Grows
By , , and
Pollsters project clear majority for president's party

France's two-round election to take place June 11 and June 18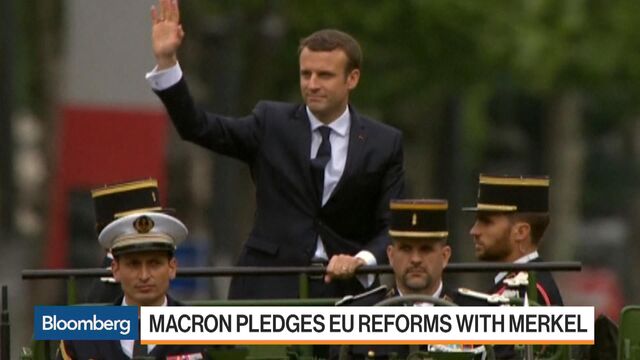 During his month in power Emmanuel Macron has minted a presidential style long on symbolism and short on words. Every indication so far suggests the French like it.
A major Ipsos poll published last week showed the 39-year-old president is on track to win a crushing majority in the two-round National Assembly election, which kicks off this Sunday. If the projection proves correct, it would defy widespread concerns during the presidential campaign that the political newcomer's plans for economic reform would be blocked by a hostile legislature.
QuickTake France's Parliamentary Elections
Though the substance of the new administration's plans remains on hold until the assembly is elected, the president's monarchical style is helping him accrue the authority he'll need to deliver labor-market reform, spending cuts and changes to the tax system.
"What Macron has been doing is laying the foundations that will allow him to do things in the future," said Edouard Lecerf, director of political-opinion research at Kantar Public in Paris. "Yes, it has been about his communications style so far, but the French are very attached to having a dignified presidency and it seem to be working."

In contrast to his two immediate predecessors, Macron has severely rationed his comments -- both on and off the record -- leaving the regular media appearances largely to his prime minister, Edouard Philippe. Since being sworn in on May 14, he has given one short interview to a newspaper and spoke only briefly after meetings with his global peers.
Hazing Trump
Instead, he's let his actions do the talking.
At his international debut at the NATO summit on May 25, Macron greeted U.S. President Donald Trump with a long, crunching handshake. A week later he responded to Trump's withdrawal from the Paris Agreement on global warming, by inviting U.S. climate scientists to work in France and hijacking the U.S. leader's signature slogan with a call to "make our planet great again."
Similarly, when Macron hosted Vladimir Putin near Paris, he challenged the Russian leader publicly, lambasting Russian media outlets for spreading false news stories and said any use of chemical weapons in Syria would meet with reprisals from France.
Macron's main domestic move has seen him publish plans for a new law on political ethics that overhauls party financing, restricts the number of parliamentary mandates for any one person to three and tightens controls on spending and conflicts of interest. While the law itself is popular with the public it is also a reminder of one blemish on Macron's record so far.
Landslide Projected
Regional Development Minister Richard Ferrand, a close ally since the start of his presidential run, is facing a preliminary criminal inquiry into his work at a regional savings bank. Ferrand, 54, is being investigated for giving contracts to both his current partner and his former wife as managing director of the Mutuellles de Bretagne. He has repeatedly said he did nothing wrong.
While the matters in question may be minor compared with past French political scandals, they come after an election campaign in which public probity played a major role.
"The Ferrand affair is certainly hurting Macron," said Dominique Reynie, a politics professor at Sciences Po in Paris. "It muddles the image of a clean renewal."
Yet the minister is little known to the public and his ministry is somewhat obscure, so the scandal hasn't made a serious dent in Macron's standing in the polls so far. The Ipsos poll for Le Monde predicts that Macron's party is on track to win between 395 and 425 seats in the 577-seat National Assembly. Even the lower end of that band would give Macron the largest majority in the lower house in more than two decades.
Such results are possible because Macron -- who was a minister under Socialist Francois Hollande -- has manage to divide both the mainstream left and the mainstream right. Marine Le Pen, who he beat in the presidential runoff, is on track to deliver between five and 15 seats for her National Front party.
"It's shaping up as a hyper-presidency," Reynie said. "There's a very strong central authority and that'll be accentuated by having many deputies who are new to politics."
Before it's here, it's on the Bloomberg Terminal.
LEARN MORE