Kelly Says Hold on Trump's Travel Ban Imperiling U.S. Safety
By
Homeland Security chief speaks to Senate panel in Washington

Small towns and large cities at risk of 'lone wolf' attacks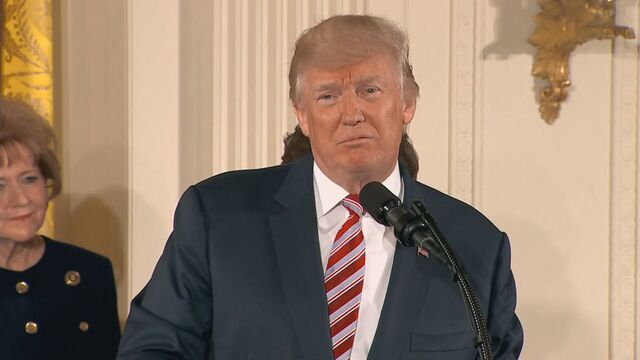 A federal court order blocking the Trump administration's travel ban has hurt efforts to prevent terrorism in the U.S. as the number of potential terrorists is growing, Department of Homeland Security Secretary John Kelly said Tuesday.
Because the administration isn't able to enforce its temporary ban on entry to the U.S. by people from six predominantly Muslim countries, Kelly told Tuesday that he's not "fully confident" that the country is doing "all that we can to weed out potential wrongdoers from these locations."
President Donald Trump's Justice Department has asked the U.S. Supreme Court to reinstate the ban, seeking to reverse a string of courtroom losses. The administration asked the court to let the ban take effect while the justices decide whether to review a lower court ruling that said the policy was "steeped in animus and directed at a single religious group."
The Virginia-based 4th U.S. Circuit Court of Appeals on May 25 upheld a nationwide halt to the travel ban, saying it was driven by unconstitutional religious motivations. The majority pointed to Trump's campaign vow to bar Muslims from entering the country and to the special preference for religious minorities in an earlier version of the ban.
Kelly told the Senate Homeland Security Committee that as the U.S.-led coalition attacks the Islamic State terror group in Iraq and Syria, jihadi fighters are returning to their homes in Europe and elsewhere and likely will plot new attacks. Kelly said some of them may try to travel to the U.S.
"We need to prevent bad actors regardless of religion, race or nationality from entering our country," Kelly said. "In recent years, we have witnessed an unprecedented spike in terrorist travel. There are more terrorist hot spots and foot soldiers now than almost any time in modern history."
The threat from "lone wolf" attacks is increasing, putting small U.S. towns and large cities at risk, he said.
Before it's here, it's on the Bloomberg Terminal.
LEARN MORE