ICE CEO Warns U.K. Not to Take Presence for Granted Post Brexit
By
Company is powerhouse in clearing, a lucrative London industry

Europe finance hubs have tried to lure ICE from London: CEO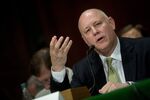 Intercontinental Exchange Inc.'s chief executive officer says the U.K. needs to do more to welcome businesses like his as the country hammers out details of leaving the European Union.
"To a certain extent the U.K. has taken our presence here for granted," CEO Jeff Sprecher said at the IDX 2017 conference in London on Tuesday. "The U.K. has done fabulously over decades and the U.K. should stand up and say, 'We're here to be the world's marketplace."'
The comments come amid a political tussle over London's dominant position in clearing euro-denominated derivatives, a lucrative industry that both Germany and France have said belong on the continent after the U.K. leaves. Atlanta-based ICE is a powerhouse in derivatives trading and clearing, and Sprecher said in April that since the Brexit vote, almost every financial center on the continent has approached him to try to attract ICE there.
"These businesses that we run have been identified by other countries as being important -- important to the capital markets, important to job creation," Sprecher said today.
To read about how Brexit puts clearing up for grabs, click here.
ICE -- owner of the New York Stock Exchange -- is a dominant presence in European derivatives trading with contracts linked to oil, gas and rates products. It recently expanded in fixed income and data services, and last week said it's acquiring Bank of America Corp.'s bond-index arm.
Any attempts to force firms to relocate clearing would push up costs, perhaps nearly doubling margin requirements to $160 billion, according to the FIA, a trade organization for the futures, options and centrally cleared derivatives markets.
"It's important that we allow market forces to determine the appropriate location for euro clearing," Walt Lukken, president and CEO of FIA, said in a statement on Tuesday. "Forced relocation would fragment liquidity, increase systemic risk and raise costs for the end-users that rely on these markets."
When it comes to making ICE feel welcome, Sprecher said, Britain's government doesn't need to do much, "except to say, "You're really important to us.'"
Before it's here, it's on the Bloomberg Terminal.
LEARN MORE