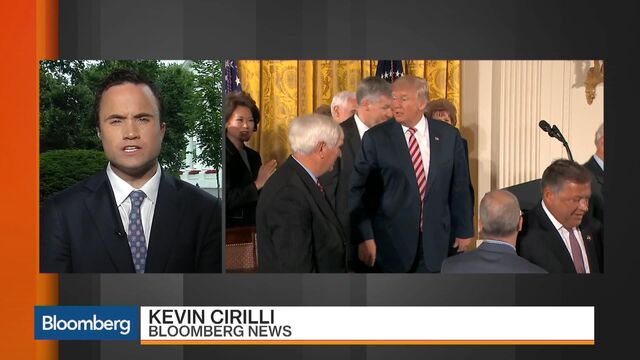 It's one point of agreement in a politically polarized government: U.S. highways, bridges and airports are in need of repair and rehabilitation. But there are still major differences between Republicans, including President Donald Trump, and Democrats on how to pay for and carry out the needed improvements.
1. What does Trump say he'll do?
To fix a system that's "literally falling apart," Trump vowed early on invest $1 trillion in U.S. infrastructure, saying he could do so while reducing taxes and the national debt.
2. How exactly would he pull that off?
Trump proposes spending $200 billion in direct federal funding to leverage at least an additional $800 billion in spending by states, localities and the private sector, including through the public-private partnerships that are used by nations worldwide. The idea is that over-reliance on federal funding can crowd out funding by the non-federal entities that own most U.S. infrastructure. Trump wants to tap the estimated trillions of dollars in available private capital while encouraging "self-help" by states and localities to generate their own sustainable revenue streams for infrastructure.
3. What projects would get the direct federal funding?

The White House says the $200 billion would be used for "targeted investments'' in rural areas that can't generate revenue for their needed work and for "transformative'' projects that are regional or national priorities. There could be incentives to induce public and private investments.
4. What about the other projects?
Existing federal support programs, including Private Activity Bonds and the Transportation Infrastructure Finance and Innovation Act federal loan program, would be expanded. States might be allowed to enact tolls on interstate highways. Control of the U.S. air-traffic control system, along with its long list of needed upgrades, would be transferred to a non-profit corporation.
5. Is that realistic?
Trump and his team are hardly alone in suggesting that big public-works projects can pay for themselves in times of low interest rates. But Trump's potential reliance on private financing is an added challenge. While some toll roads, airports and water systems can produce the revenue needed to make projects profitable, other big-ticket projects might require public dollars to get off the ground. Groups representing governors and mayors have said they already are increasing their state gas taxes, borrowing money and putting transportation funding measures on the ballot and that they need the federal government to increase, not decrease, direct funding.
6. What's Trump done so far?
He produced a six-page fact sheet with the principles for his infrastructure plan with the expectation of a complete legislative package by the third quarter of 2017. He transmitted legislative principles to Congress to begin his push to move the air-traffic control system to a private, non-profit corporation. He named two Manhattan real estate developers, Richard LeFrak and Steven Roth, to lead a council of builders and engineers that will advise the administration on the infrastructure program.
7. What are the stumbling blocks?
The tolls and fees that might be needed to make highway work profitable are unpopular, impractical, or both in many areas of the country. Republican fiscal hawks in Congress shot down an economic stimulus program built on infrastructure work when Barack Obama was the person proposing it, and Trump faces similar resistance. House Speaker Paul Ryan says he won't support infrastructure spending without offsetting budget cuts. Democrats say they won't support any proposal that relies on privatization or tax credits that they see as benefiting wealthy investors and that much more than $200 billion in federal spending over 10 years is needed.
8. Is there another way?
A group of Senate Democrats proposed their own $1 trillion infrastructure plan, paid for directly by the federal government.
9. Is the U.S. really 'falling apart'?
The American Society of Civil Engineers gave America's infrastructure a grade of D+ on its 2017 report card and estimated that roads, highways, bridges, water systems, schools and transportation systems collectively need $4.59 trillion in investment by 2025 with a funding gap of about $2 trillion. Though civil engineers might be seen as having a stake in painting a dire picture, the raw numbers are pretty bleak: 28 percent of major urban roads in substandard or poor condition, 240,000 water main breaks each year, 58,791 structurally deficient bridges at the start of the year. The average age of the nation's fixed assets in 2015 was 22.8 years, the oldest in data back to 1925.
The Reference Shelf
— With assistance by Sho Chandra
Before it's here, it's on the Bloomberg Terminal.
LEARN MORE