Guess Probed by EU Amid Clampdown on Cross-Border Sales Curbs
By
EU suspects Guess may ban cross-border sales to consumers

EU's Vestager plans to check Guess is 'playing by the rules'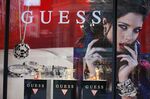 Guess? Inc. faces a formal European Union antitrust investigation over suspicions the clothing manufacturer and retailer may be thwarting cross-border sales to potential consumers.
The European Commission will examine Guess' distribution agreements and practices to determine whether they violate EU competition rules that allow consumers in the bloc to purchase from any retailer authorized by a manufacturer, including across national borders.
"One of the key benefits of the EU's single market is that consumers can shop around for a better deal," EU Competition Commissioner Margrethe Vestager said Tuesday in an emailed statement. Officials will check Guess is "playing by the rules and not preventing consumers from buying products across borders."
The EU said that while the Guess probe is separate from a sweeping probe into online sales inquiry finalized last month, the case "follows up" on one of the issues identified. The digital economy is a focus for Vestager, who is investigating Alphabet Inc.'s Google over an online shopping search tool, phone software and advertising.
Los Angeles-based Guess didn't immediately respond to requests for comment.
Vestager's also probing Hollywood studios over restrictive contracts with pay-TV provider Sky Plc that may block sales outside the U.K. and has also cited concerns over how companies increasingly collect and use vast amounts of data about consumer habits.
Before it's here, it's on the Bloomberg Terminal.
LEARN MORE