ECB Goes East for Rate Debate in One of Euro's Top Fanclubs
By and
Baltic nation has low debt and high growth after reform drive

ECB will meet in Tallinn on June 7-8 to set monetary policy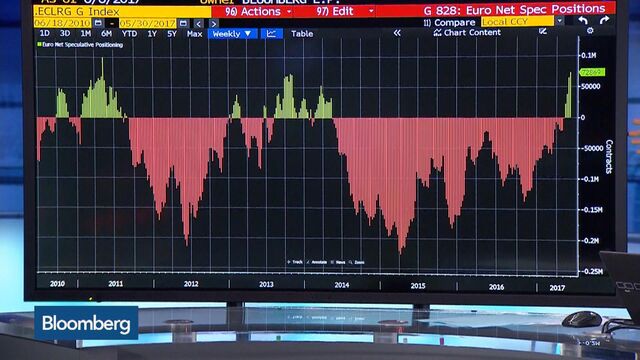 European Central Bank officials heading east for an out-of-town meeting this week will be welcomed by a nation with a lesson or two to deliver about the euro.
In a quarter of a century, Estonia has gone from being a sliver of the Soviet empire on the Baltic Sea to a sovereign member -- and staunch supporter -- of the world's second-biggest currency. The country of just over a million people has also taken many of the steps that ECB President Mario Draghi says the bloc needs to escape its reliance on monetary support and susceptibility to euro-skepticism.

"There is this famous euro barometer where people are asked: what's your view of the euro? And we are always near the top," Ardo Hansson, the Estonian central bank governor, said in an interview in Tallinn on Thursday. "New members, particularly from the Baltics, have on balance been net contributors of stability to the euro zone. In general, our public finances, macroeconomics are in good shape."
Hansson, 58, will join the rest of the Governing Council on Wednesday for a two-day meeting -- one of the ECB's occasional policy decisions outside Frankfurt -- that comes at a critical time. With Dutch and French voters rejecting euro-skeptic politicians and the region's economy picking up, officials face pressure to say when they'll unwind their 2.3 trillion-euro ($2.6 trillion) bond-buying plan and raise interest rates.

Ninety percent of respondents in a Bloomberg survey of economists said the ECB will decide on Thursday that the risks surrounding the euro area's recovery are balanced, but are split on whether it will remove its easing bias on interest rates. While Hansson can't comment on monetary policy just before decisions, he recently said stimulus withdrawal must be communicated and implemented "very judiciously."
High Marks
That echoes Draghi's concern that global factors such as Brexit and U.S. trade policies pose a risk while the euro area bears economic slack -- something he's likely to reiterate when he briefs reporters at Tallinn's secondary school of science after the meeting. The ECB frequently says inadequate structural reforms undermine potential growth, notably in France and Italy.
Estonia, by contrast, should be in Draghi's good books. Its public debt of 9.7 percent of gross domestic product compares with a euro average of 89.3 percent. It has run a surplus for three years, just like Germany. Economic growth in the first quarter was the fastest in five years.
The World Bank ranks the nation 12th globally for ease of doing business, and Estonian students are third in science literacy, according to the Organisation for Economic Cooperation and Development.
"Estonia proves a key point of the ECB and Mario Draghi -- that monetary policy alone cannot lift economies," said Fredrik Erixon, head of the European Centre for International Political Economy in Brussels. "Estonia is an open economy that has continued to reform itself under the crisis years, leading to a growth rate substantially above other euro countries."
Independence
The path to the euro started with a desire recognizable in today's populism: taking back control. In June 1992, less than a year after declaring independence during a coup attempt in the Soviet Union, Estonia replaced the rouble with the kroon as the first post-Soviet country with its own currency. Hansson, Chicago-born and Harvard-educated, was on the monetary-reform committee.
"One could not have envisaged, given the mood of those times, that any other option was available," he said. "Equally important was the practical concern about living in a collapsing rouble zone facing hyperinflation."
Price growth exceeded 1,000 percent in 1992 as the economy imploded. Unable to sustain a free-floating currency, reformers sought to tie Estonia's fortunes to the West by pegging the kroon to the German mark, a tricky maneuver that was initially unpopular.
"I remember actually going to the town of Parnu a few weeks after the currency reform and I checked into a little guesthouse and introduced myself: 'By the way, I'm a member of the monetary reform committee'," Hansson said. "The hotel owner said: 'I wouldn't advertize that too loudly'."
Financial Crisis
Estonia then linked the kroon to the euro, starting a reform process that took it into the European Union in 2004 and monetary union seven years later.
The economy grew as much as 10 percent annually -- before shrinking by a fifth in two years following the global financial crisis. While Europe's debt woes sparked a debate over whether rushing into the euro made sense, the government pushed on.
"We'd been preparing for it for a long time," said Hansson, who became governor in June 2012. "Having second thoughts and being very opportunistic about the timing didn't seem to make a lot of sense."
A decade on, Estonia's economic challenge might be too much stimulus. Hansson has warned of a "moderate threat of overheating" amid a push to cut taxes for low-earners, boost public sector wages and spend more on housing.
Ferris Wheel
Tallinn is already undergoing a construction boom, and average apartment prices rose above pre-crisis peaks last year. On the outskirts, construction has started on a shopping and leisure center with a Ferris wheel -- on its roof.
Hansson says that while domestic growth might be an issue, the ECB's job is to lift the euro area as a whole, and it's fine for national economies to run at different paces.
"Some people worry that you should have countries at a relatively similar level of economic development, and that would make a more sustainable euro zone," he said. "What really matters is if you have good management, sound governance, a flexible economy with some resilience. Basically an ability to respond to and manage shocks."
Before it's here, it's on the Bloomberg Terminal.
LEARN MORE