Do Americans Have a Right to Read Trump's Tweets?
The Knight First Amendment Institute has asked the president to unblock critics.
By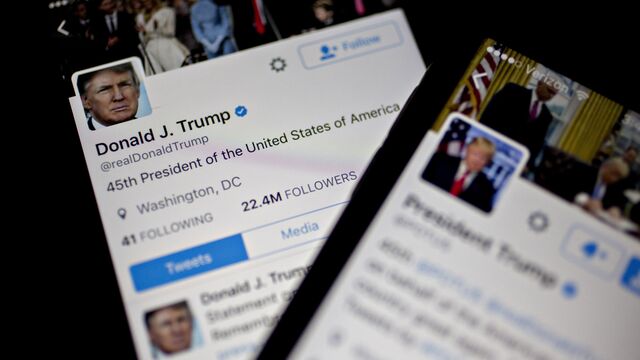 President Donald Trump's Twitter account is once again the subject of debate, as the Knight First Amendment Institute urged him to unblock individuals in a letter sent to the White House on Tuesday.
The institute, a nonprofit organization affiliated with Columbia University, said it believes his account is a "designated public forum" and threatened legal action if the president didn't comply. In a letter addressed to Trump, his counsel, press secretary and social media director, the institute wrote on behalf of Holly O'Reilly and Joseph M. Papp, both of whom criticized the president on the social media platform in recent weeks and said they were blocked. 
"The blocking of users from your Twitter account suppresses speech in a number of ways," the letter stated. "Users who have been blocked cannot follow you on Twitter, and they are limited in their ability to view  your tweets, find your tweets using Twitter's search function, and learn which accounts follow you. They are also limited in their ability to participate in comment threads associated with your tweets." Replying to messages posted by Trump on Twitter, often in the form of a thread, is common practice on the platform, both by fans and detractors of the Republican president. 
In a press conference on Tuesday, White House spokesman Sean Spicer said Trump's tweets should be considered official statements. Twitter declined to comment as to whether the service will disable the "Block" button from the president's account.
The institute said blocking any users from Trump's feed constitutes a violation of the First Amendment. Requests for comment from the White House weren't immediately returned. 
"This is a context in which the Constitution precludes the president from making up his own rules," Jameel Jaffer, the Knight Institute's executive director, said in a statement. "Though the architects of the Constitution surely didn't contemplate presidential Twitter accounts, they understood that the president must not be allowed to banish views from public discourse simply because he finds them objectionable. Having opened this forum to all comers, the President can't exclude people from it merely because he dislikes what they're saying." 
The Knight Institute presents a creative argument, said Darren Oved, a partner at Oved & Oved LLP and a First Amendment attorney. Typically, the constitution wouldn't preclude a citizen from controlling the content of their social media, but the argument that the head of the executive branch can't restrict access to his Twitter page—where he has chosen to use it as a forum for policy debate—is innovative and potentially compelling, he said.  

"It will be interesting to see how it plays out if the matter is actually litigated," Oved said.
Before it's here, it's on the Bloomberg Terminal.
LEARN MORE