Combined Series B, Series C rounds led by Grassy Creek

Competition heating up among electric motorcycle manufacturers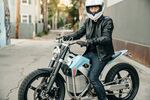 Alta Motors, a closely held motorcycle maker based in California, has closed $27 million of preferred stock as part of a round of financing that'll allow it to boost production of electric motorcycles.
The combined Series B and Series C round was led by Grassy Creek Ventures and included Mountain Nazca and Bob Fox, founder of FOX Racing Shox Inc., Alta Motors said in a statement Tuesday. The company had previously raised $16.2 million.
The financing comes as competition heats up among motorbike makers, with Polaris Industries Inc., Energica Motor Co. and Lightning Motors Corp. all offering electric-powered motorcycles. Such bikes make up just a fraction of the more than $125 billion global market for lightweight vehicles now, but demand for them is poised to rise as part of a transition away from vehicles that combust fossil fuels to combat pollution, Alta Motors Chief Executive Officer Marc Fenigstein said.
"As traditional automotive loses its transportation crown, this is a pivotal moment for us and for the industry; we are breaking barriers in storage, powertrain and vehicle design," Fenigstein said in the statement.
The company will use the new funds to increase distribution and production of its all-electric Redshift motorbike line to a level "where it is self-sustaining," Fenigstein said in an interview. The company has developed a battery pack that, it said, can store more energy per kilogram than anyone else in the lightweight, electric-vehicle market.
Alta Motors also named new board members including Travis Bradford, a professor at Columbia University and president of the Prometheus Institute for Sustainable Development, and Hector Sepulveda, managing partner at Mountain Nazca.
Before it's here, it's on the Bloomberg Terminal.
LEARN MORE