Brexit Bulletin: To the Brexit Heartlands
By
PM May seeks to refocus election on Brexit with two days to go

Foreign Secretary Johnson helped win referendum vote in 2016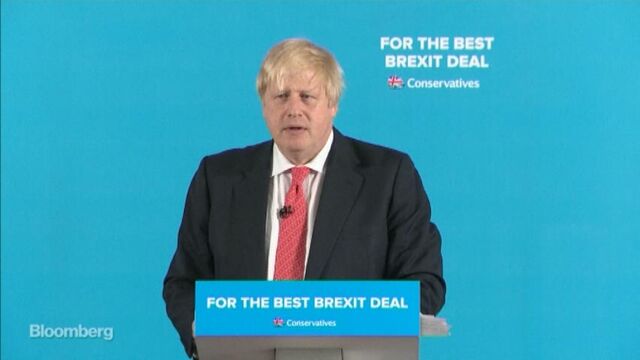 Sign up to receive the Brexit Bulletin in your inbox, and follow @Brexit on Twitter.
Prime Minister Theresa May is getting back to Brexit.
After spending much of Monday discussing security and policing in the wake of Saturday's terror attack in London, the Conservative Party leader will on Tuesday dispatch Boris Johnson to the northeast of England.

The Foreign Secretary will target areas traditionally held by the opposition Labour Party that voted to pull out of the European Union. One of the faces of last year's successful Leave campaign, Johnson will say that only May can "get Brexit right" and that "this is the moment to believe in the huge potential of Brexit Britain."
Two days before the election, the Tories are eyeing both Labour voters who backed Brexit and those who supported the U.K. Independence Party in 2015. May stopped off in Bradford last night, a seat her party last won in 1918.
Under pressure on policing numbers, the prime minister on Monday again sought to make the case that she is best placed to negotiate Brexit with the EU. The bloc would celebrate an election win for Labour leader Jeremy Corbyn and "think Christmas had come early," she said.
The Conservatives also detailed plans to create a new panel of businesses and political leaders with the goal of ensuring any trade benefits from Brexit are spread across the country.

As for Labour, its leaders will spend Tuesday aiming to shore up support in working-class areas with a warning that May's plans to cut winter heating support for the elderly will cause thousands of extra deaths.
The Conservatives' polling lead fell from to one point last week from 17 points in early May, according to a new Survation survey for ITV Good Morning Britain.
Read More: Election Night: An Hour-by-Hour Guide
On the Markets
So what's at stake for investors on Thursday?
If Labour does prevail and pull off an election shock, exporters and global corporations could benefit if sterling declines, according to Bloomberg's Justina Lee. Likely losers would be defense companies, utilities and perhaps Sky Plc.
In the event May secures the landslide polls once suggested she could, Justina points to analysts who say the defense industry and home-builders would do well. Utilities could again suffer.

Over in the gilt market, John Ainger and Anooja Debnath of Bloomberg reckon government bonds could plunge if Labour pulls off a surprise upset. Axa Investment Managers has already gone short on gilt futures.
"We expect to see quite substantially higher gilt yields and that is simply because if the Labour Party is elected there's an expectation that they are going to invest a lot in infrastructure projects, the NHS, and that will warrant a big pick-up in gilt issuance," said Nicolas Trindade, a senior portfolio manager for Axa.

JPMorgan Warning
JPMorgan Chase executive Vittorio Grilli warned overnight that it's still "very hard to see a very peaceful outcome" from the Brexit negotiations.
The bank's chairman of corporate and investment banking in Europe, Middle East and Africa told Bloomberg's Stephen Engle that the "subject matter is very, very delicate" and that "there are major, major principles at stake."
JPMorgan economist Malcolm Barr on Monday tried to frame what different election results would mean for the Brexit talks.
In a report to clients, Barr suggested that May's reliance on a small group of advisers implied if the Tories win a majority of 50 or more she might be emboldened "in an approach which threatens a more disruptive Brexit process" while reducing the likelihood of parliamentary defeat. A smaller majority would allow the House of Commons to exert more constraint, he said.
As for Labour, a government led by it would likely mean the EU extends the deadline for Brexit beyond March 2019 to offer it time to prepare for the negotiations, said Barr. He predicted Corbyn would eventually seek membership of the European Economic Area, alongside Norway.
Brexit in Brief
Record London City skyscraper values mask first property wobbles, while London rents are declining
Insurer QBE is to set up an EU base in Brussels, the Financial Times reports
The health service faces funding strains in event of hard Brexit, Economist Intelligence Unit says
University of East Anglia study finds that uncertainty surrounding Brexit caused mergers and acquisitions to fall by 15 percent in the year since the Brexit vote, compared to the previous eleven months
Retail sales fell for the fourth time in five months on a like-for-like basis in May. Evidence is mounting that consumers are reining in spending, say the British Retail Consortium and KPMG. U.K. services also cooled more than expected in May.
And Finally
The Scottish town of Peterhead, Britain's largest fishing port, always had a rebellious streak.
It supported the Jacobite uprising against the monarch in the 18th century and, more recently, the region turned into one of the earliest strongholds of the pro-independence Scottish National Party. Now the U.K. election is uniting locals behind another upset to the status quo as the U.K. chooses a leader to spearhead Brexit talks.
"No-one's talking about what Brexit means for Scotland," Marion Polson, 65, told Bloomberg's Charlotte Ryan as she sat with a friend in Peterhead's central square.
"If you look at the other side of town, it's a disgrace, there's nothing there. People are worried about jobs and housing."

For more on Brexit follow Bloomberg on Twitter, Facebook and Instagram, and see our full coverage at Bloomberg.com
Quotes from this Article
Before it's here, it's on the Bloomberg Terminal.
LEARN MORE