Brazil Heads Into the Unknown as Court Mulls President's Fate
By and
Electoral court is one of three threats that Temer faces

Some investors are starting to see Temer as a liability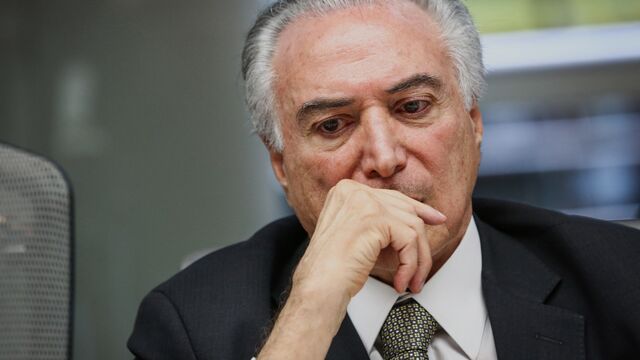 Brazil's Michel Temer's grip on the presidency faces a new threat today as a top court began deliberating on whether he and running mate Dilma Rousseff received illegal financing during their last election campaign.
Shortly after 7pm on Tuesday Gilmar Mendes, the president of the TSE, as the court is known, opened proceedings. Temer could lose his mandate if the court finds that his 2014 campaign with Rousseff received illegal financing. The long-delayed ruling gained new importance after corruption allegations against Temer emerged last month, prompting calls for his resignation or impeachment, even from within the ruling coalition.
The court ruling scheduled to last three days takes place amid an increasingly poisonous atmosphere in Brasilia which threatens to paralyze a crucial economic reform agenda. While there are several possible outcomes on whether Rousseff and Temer's ticket benefited from off-the-books campaign donations, the president is expected to appeal an adverse decision. But some investors are beginning to see the market-friendly leader as a liability.
"If Temer stays, in the current situation, it ought to lead to a fall in share prices," said Bruno Rovai, an economist at Barclays Capital. "It will take time to bring his support base back together, and even if he manages to do so, we're losing time to carry out reforms."
Even after last year's impeachment of Rousseff, an ouster of Temer would be a very significant move in Brazilian politics. Since the country's return to democracy in 1985, no presidential election has been annulled.
In a sign of the frenzy that has gripped Brazil's political establishment, former lower house speaker and Temer's ex-tourism minister, Henrique Alves, was arrested early on Tuesday, the last of several Temer aides put behind bars in recent weeks. Alves's lawyers could not be reached.
Temer himself has repeatedly ruled out resigning and denied allegations of wrongdoing. In an interview with foreign journalists, including Bloomberg, Temer said that he hoped the TSE judgment would be swift in order to minimize instability.
What to Expect From Brazil's Top Electoral Court Ruling
Corruption Investigation
The electoral court is one of three threats to Temer's continuation in office. The others are pending impeachment requests and an investigation authorized by the Supreme Court into allegations of obstruction of justice and passive corruption.
Temer and his political aides believe the prosecutor general's office will press charges against the president in the coming days as a way of putting pressure on the electoral court, local media reported on Monday.
Rodrigo Rocha Loures, an aide of the president implicated in the recent corruption scandal, was arrested on Saturday. Temer's allies fear he may strike a plea bargain agreement with prosecutors, offering testimony against the president in return for leniency, according to a member of Temer's cabinet.
Prosecutors expect recent testimony to generate an "avalanche" of other plea bargain requests by suspects accused of involvement in the corruption scheme revealed by the Operation Carwash probe, newspaper O Estado de Sao Paulo reported.
Political Support
Over the weekend, Temer sought to shore up the support of the PSDB, the government's main coalition partner, amid reports that the party is divided. Its interim leader, Senator Tasso Jereissati, has made it clear that the PSDB considers the TSE's decision an important factor in determining the party's continuing support.
Numerous impeachment requests have been filed against the president, but so far the house speaker, Rodrigo Maia, has shown no indication of considering any of them. Maia, a loyal Temer ally, is next in line to the presidency.
— With assistance by Vinicius Andrade
Before it's here, it's on the Bloomberg Terminal.
LEARN MORE