Top Middle East Ports Shun Qatar as Saudis Tighten Isolation
By and
Saudi Arabia's oil ports bar ships owned or bearing Qatar flag

Dubai's DP World shuts access to container port at Jebel Ali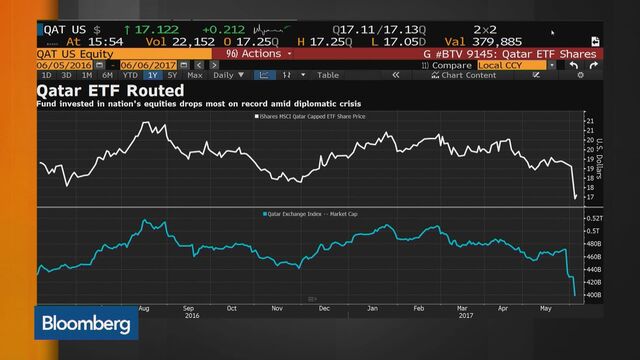 The Middle East's largest ports banned entry to all Qatari-flagged vessels, deepening the economic isolation of the gas-rich Gulf state from its largest Arab neighbors.
Maritime authorities in Saudi Arabia, the United Arab Emirates and Bahrain all said they had closed their berths to Qatari-flagged or Qatari-owned ships. Some also shut access to vessels traveling in and out of Qatari ports. The impact was felt almost immediately as the world's largest container shipping line, A.P. Moller-Maersk A/S, said it could no longer get cargo in and out of Qatar.
The latest development in the diplomatic crisis enveloping the world's most important energy-exporting region may also impact oil trading. Vessels loading Qatari oil and gas won't be able to call at Fujairah in the U.A.E., the Gulf's biggest hub for fueling ships. Moreover, tankers often load a mix of regional crudes like Saudi, U.A.E. or Qatari oil. That may get more difficult now.
The three Persian Gulf countries and Egypt severed ties with Qatar Monday, citing its support for regional rival Iran and for extremist groups. The dispute pits two of OPEC's largest oil producers -- Saudi Arabia and the U.A.E. -- against the world's biggest exporter of liquefied natural gas.
In a sign the transport bans were creating challenges for operators in the region, Abu Dhabi Petroleum Ports Authority issued a circular on Wednesday that eased restrictions it had imposed earlier on international tankers that have called or plan to call at Qatar. It however kept a ban on all Qatar-flagged or Qatar-owned vessels.
Maersk can no longer supply Qatar since it relies on smaller, so-called feeder vessels, to transport goods within the Persian Gulf from Dubai's Jebel Ali port, spokesman Mikkel Elbek Linnet said in an emailed statement on Tuesday. The company is working on alternative ways to bring cargo to Qatar, and expects to have solutions in place by Thursday, according to a company memo to customers.
French oil producer Total SA provisionally chartered two Suezmax tankers, typically capable of carrying about 1 million barrels of oil, to ship crude oil from ports in Qatar and Abu Dhabi, according to two shipbrokers and fixture data compiled by Bloomberg. Middle East oil buyers often charter vessels called Very Large Crude Carriers, or VLCCs, that are able to transport 2 million barrels of crude to save on overall shipping costs, shipbrokers said.
Crude tankers operating in the Persian Gulf often call at more than one oil port in the region. VLCC Asian Progress V loaded in Saudi Arabia after taking on crude at Qatar's Mesaieed terminal, according to ship tracking data.
Dubai's government-owned Emirates National Oil Co. is selling cargoes of Qatari condensate to be loaded this month and in July, according to traders with knowledge of the matter. ENOC operates a refinery at Jebel Ali that uses light oil and the company typically imports condensate from Qatar and Iran.
Saudi Arabia's eastern coast is home to the port of Ras Tanura, which state-owned Saudi Arabian Oil Co. says is the biggest crude terminal in the world. Jebel Ali port, the region's biggest container terminal, will be restricted from Tuesday until further notice, its operator Dubai's DP World Ltd. said in an emailed statement. In the U.A.E., DP World operates Jebel Ali along with Dubai's Mina Rashid and Mina Al Hamriya ports, according to its website.
The Saudi Ports Authority banned Qatari-flagged and Qatari-owned vessels, without mentioning restrictions on international tankers that have called or plan to call at Qatar. The port at Fujairah, a main oil transit and refined product hub, said Monday it was closed to Qatar-linked traffic. Abu Dhabi Ports also banned all vessels going to and from Qatar, according to a statement from the authority.
"It's more of a logistical issue that you can get around," Jonathan Lee, chief executive officer of shipping pool operator Tankers International, said of the inability of Qatari ships to fill their tanks at Fujairah. "It's not the end of the world." 
Shipping at Egyptian ports was operating normally as of Tuesday, according to a notice posted on the website of Inchcape Shipping Services on Tuesday. The company also said the Suez Canal Authority has advised that there aren't restrictions on vessels in the waterway since it's an international route.
— With assistance by Brian Wingfield, Christian Wienberg, Serene Cheong, and Julian Lee
Quotes from this Article
Before it's here, it's on the Bloomberg Terminal.
LEARN MORE