What Happens to Stocks If Theresa May Wins a Landslide?
By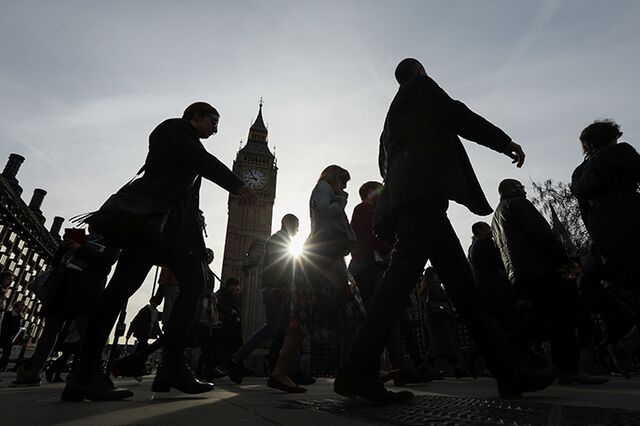 It's not your grandfather's Tory party.
That's some analysts' takeaway after perusing the manifesto of the Conservative Party. While the Tories are still seen as more business-friendly than a Labour Party led by Jeremy Corbyn, Prime Minister Theresa May has given her platform a populist touch, promising caps on energy costs, greater scrutiny of takeovers and executive pay and -- most critically for markets -- an exit from the European Union single market.
"Given that May looks likely to be a more interventionist premier than her Tory predecessors, we would expect an increasing focus by fund managers on the small print of the Conservative Party's manifesto pledges," said David Docherty, a London-based fund manager at Schroders Plc.
In the final days before the election, May and Corbyn have traded blows over each other's records on countering terrorism, as recent attacks in London and Manchester turned the focus from Brexit to security. Polls have called for increasingly narrow margins for the Tories amid a series of political missteps by May, with the latest one by Survation/GMB ended Saturday showing just a one-percentage point lead.
Here are the sectors and stocks to look out for in case of a Conservative victory:
LOSERS
Utilities
Power bills are a common target for Corbyn and May. Utilities took a beating after the Conservatives pledged to cap household energy bills, before recovering as the Tory manifesto showed little further detail on the policy. Among the big six utilities, Centrica Plc -- whose shares have rebounded the least and underperformed the U.K. market -- will see the biggest earnings impact from regulation, according to Goldman Sachs Group Inc. Germany's Innogy SE, which owns British supplier Npower, may exit the U.K. market on the proposed cap, Deutsche Bank AG said.
Utilities may gain initially on a strong Tory win as traders price out nationalization risks under a Labour government -- before falling in the following 12 months as price caps are enacted, Deutsche Bank strategists led by Wolf von Rotberg wrote in a Tuesday note.

M&A 
May's administration will demand greater scrutiny of takeovers, protect national infrastructure industries and be able to legally enforce promises made and put bids on hold. "This could stifle mergers and acquisition activity at a time when U.K.-listed companies are more attractive because of the FX move," Bank of America Merrill Lynch strategists led by Tommy Ricketts wrote in an April 27 note.
Exporters and Global Corporations
It's all about the pound, which is expected to rally in the event of a Tory landslide. The currency has rallied about 3 percent since the snap election was announced, on speculation a strong majority for the ruling party will help the U.K. secure a transitional Brexit deal and sideline the more anti-EU Tory members. Stronger sterling undercuts export competitiveness and shrinks overseas earnings in pound terms. As recent polls showed a tightening of May's lead, the pound fell to a six-week low at one point last week.

Still, while the pound has been wedded to May's electoral fortunes lately, it's not clear a party that's backing a hard Brexit will necessarily be positive for the U.K. economy and the exchange rate in the longer term. The inverse relationship between the pound and the exporter-heavy FTSE 100 has also weakened somewhat lately.
WINNERS
A Tory win is likely to mean more of the same for many industries.  
A Conservative win would be a better outcome for the defense industry, especially for more U.K.-exposed companies such as BAE Systems Plc and QinetiQ Group Plc, said Sandy Morris, an analyst at Jefferies LLC. Support for the building of new warships may bring new opportunities to Babcock International Group Plc, he added.
While home-building is championed across party lines, political stability and continued infrastructure investment under the Tories would help give the construction sector another leg up in its rally, said Robert Chantry, an analyst at Berenberg Bank in London.
Business services such as Hays Plc and Pagegroup Plc will gain from a Tory government's propensity to outsourcing functions, Deutsche Bank said.
Domestically focused retailers such as Marks & Spencer Group Plc and Tesco Plc should benefit from the Tories' plan to lower business rates, a stronger currency and lower inflation, according to Deutsche Bank.
Click here for a guide to understanding U.K. election polls.
Of course, the biggest overhang across U.K. shares is still Brexit. While a Tory triumph would bring political stability and a long transitional deal with the EU, the increased probability of leaving the single market will bring longer-term pain, according to Morgan Stanley.
"The decreased risk of a disruptive Brexit, coupled with greater political stability and positive growth, should help to fuel markets initially," strategist Andrew Sheets wrote in a note. "But the larger the Conservative majority, the higher the likelihood of a hard Brexit, which could temper growth even more."
Before it's here, it's on the Bloomberg Terminal.
LEARN MORE