Airlines Say Travelers May Be Growing Accustomed to Terror Spree
By and
U.K. deaths haven't hurt sales, British Airways owner reports

Lufthansa says attacks 'terrible,' but bookings still up
It may be a sign of the times, but the latest round of terrorist attacks in Europe appears not to be having the usual impact on travel demand as tourists show signs of becoming inured to the threat of violence.
British Airways has seen no dip in bookings following the recent deaths in London and Manchester, according to the head of its parent group IAG SA, who said international travelers may be growing accustomed to the risks. Deutsche Lufthansa AG also said the market is proving surprisingly resilient.
Demand from Asia has advanced more than expected and the weaker pound is encouraging travel from the U.S., IAG Chief Executive Officer Willie Walsh said in an interview in Cancun, Mexico. Both markets have experienced sharp dips and slow recoveries in the wake of previous terrorist attacks.
"It would be terrible if people start just considering that this is routine or normal, but we haven't seen an impact on bookings," Walsh said at the International Air Transport Association's annual meeting . "In the past we would expect it to have some impact, but we haven't seen anything."
Britain has suffered three major terrorists incidents in as many months. Five people died in March when a man rammed a car into crowds on Westminster Bridge before stabbing a police officer outside Parliament, while two weeks ago a bomber claimed 22 victims at a pop concert in Manchester. And on Saturday seven lives were lost as three attackers swerved a van into pedestrians on London Bridge and went on a stabbing spree in nearby bars.
Lufthansa CEO Carsten Spohr, briefing journalists at the IATA gathering, also reported surging demand despite the string of terror attacks that has also affected Germany.
Concerned Citizen
"I'm concerned as a citizen about these attacks because they're terrible, but from an outlook perspective we are getting more optimistic every week," he said. "It's definitely moving along a lot better than we expected."
Demand is especially buoyant on routes to Europe from the U.S. and Asia, he said, echoing Walsh, spurring faster-than-anticipated gains in revenue per available seat kilometer, or RASK, which reflects occupancy levels and fares.
A dozen people died in Berlin in December when a man drove a truck into a crowd of people at a Christmas market in Germany's worst terror attack since 1980. In April, a man detonated bombs next to a bus carrying players from soccer club Borussia Dortmund, while on Friday tens of thousands of people were evacuated from a rock concert after police identified a "specific" threat.
IATA lifted its outlook for 2017 airline earnings by $1.6 billion Monday, forecasting that net income at European carriers would reach $7.4 billion -- $1.8 billion more than previously predicted.
Alexandre de Juniac, the group's CEO, told airline chiefs that Europe is bouncing back from a tough 2016, when many visitors stayed away in the wake of the November 2015 Paris attacks, which killed 130, the Brussels bombings four month later, in which more than 30 died, and last July's truck attack in Nice, where more than 80 lives were lost.
All the same De Juniac, previously CEO of Air France-KLM Group, cautioned that "the threat continues to hang over the continent, with potential negative impacts on demand."
Watch Next: May: Must Do More to Respond to Changing Threat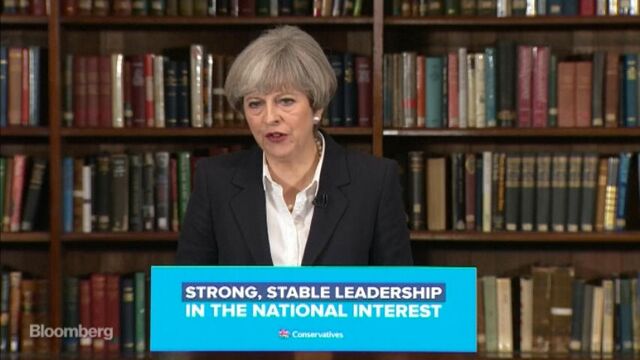 — With assistance by Richard Weiss
Quotes from this Article
Before it's here, it's on the Bloomberg Terminal.
LEARN MORE