Pimco Is Neutral on Italy as JPMorgan Eyes Autumn Vote
By
Italy-Germany bond spread at one-month high on political woes

Italian parties moving closer to deal on new electoral law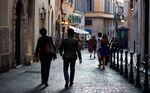 Pacific Investment Management Co. said that it's neutral on Italian bonds on the conviction that the yields were too low to compensate for the nation's mounting political risks.
The reduction marks a shift for the $1.5 trillion asset manager, which had been overweight in recent years. It now maintains a neutral exposure to peripheral European assets. JPMorgan Chase & Co. and Barclays Plc say the odds of Italy facing snap elections as early as autumn have risen, with the U.S. bank predicting an increase in the nation's bond yields in such a case.
A growing number of investors and strategists have warned Italy could be the epicenter of Europe's next political tremor as the rising popularity of the anti-establishment Five Star Movement fuels concerns about an electoral upset. Bank of America Merrill Lynch is recommending yield-seeking clients to look for opportunities outside Italy, while Deutsche Bank AG has exited one of its positions in the nation's debt against French counterparts.
"Getting paid 2 percent on the 10-year bond to fund Italy doesn't look attractive to me," Andrew Balls, Pimco's chief investment officer for global fixed income, said during a press briefing in London last week. "Our baseline isn't that Italy is going to leave the euro zone, but it doesn't seem a crazy idea that it could happen or market can significantly increase the pricing for Italy exit. The probability that things go wrong, it's too high."

The extra yield on Italian 10-year government bonds over German bunds has climbed to 198 basis points from a four-month low of 169 basis points reached May 23 as investors priced in the risk of an early vote.
Electoral Law
Last week, Italy's main political parties moved closer to an agreement on drafting a new electoral law. A deal would remove any hindrance to snap elections, eliminating the need to wait for scheduled elections in early 2018. The Five Star Movement, which is neck-and-neck with ex-Premier Matteo Renzi's Democratic Party with about 30 percent of voters' support in the latest electoral polls, has pledged to hold a referendum on Italy's euro membership if it leads the country's next government.
"The earlier the vote, the stronger the widening impact" on bond spreads, JPMorgan economist Marco Protopapa wrote in a June 1 note to clients. "We believe the probability of 2017 elections has moved to well above 50 percent."
Volatility in Italian and peripheral assets may increase in coming weeks amid headlines and electoral polls, strategists at Barclays said in a note to clients on June 2.
A snap vote in Italy could coincide with the European Central Bank signaling a tapering of its asset-purchase program, boosting upward pressure on the country's debt yields. In such a case, Pimco's Balls sees the risk that Italy would need to ask for support from the European Stability Mechanism, the vehicle created during the European sovereign crisis to offer financial backstop to peripheral countries.
"It's not our base scenario but it doesn't seem terribly unlikely," said Balls. Given the risks, investors should seek opportunities elsewhere, he added. Currencies and debt in emerging markets such as Mexico, Brazil, India and Indonesia are attractive, according to Pimco.
"Don't be trapped in your local market," said Balls. "Go global. You don't have to try hard to find something that looks better than Italy. We have been running more emerging-market foreign-exchange risk. We see pretty good opportunities there."
(A previous version of this story corrected the headline and lead to say that Pimco has shifted to neutral on Italian bonds, rather than exiting them entirely.)
— With assistance by Stephen Spratt
Before it's here, it's on the Bloomberg Terminal.
LEARN MORE