Corbyn Says U.K.'s May Should Quit as Rivals Clash Over Terror
By and
Prime Minister says Corbyn opposed police 'shoot to kill' plan

Labour leader says May should resign over police cuts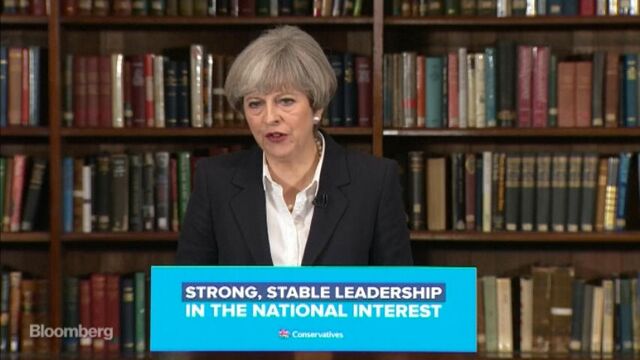 Prime Minister Theresa May tried to re-cast the U.K. election as a choice over which leader can keep Britain safe, as the shadow of three deadly terrorist attacks hung over the final days before Thursday's vote.
May said her Labour Party rival Jeremy Corbyn would have been unable to protect the public from a wave of terrorism that since March hit twice in London and once in Manchester. Corbyn hit back, suggesting the Conservative leader had compromised security by cutting police numbers and should resign.
Read more: The London Attack Didn't Stop the Social Media Election
As the polls tighten, the clash shows the two rivals battling to bring the debate back to their core themes: May stressed her experience and "strong" leadership, while Corbyn pledged to increase public spending on law enforcement. In four days, the result will be known.
"There's no time for learning on the job," May said in a speech at a defense think tank in London. Corbyn opposed "every single counter-terror law" she introduced as home secretary and failed to support the police policy of "shoot to kill," which was vital to saving lives on Saturday, she said.
"That's not leadership," May added. "It's a failure to meet even the minimum requirement of the job of prime minister -– to keep our country safe."
Seven weeks ago, May shocked Britain by calling a snap election on June 8. She made her play from a position of what appeared to be unrivaled political strength, telling voters they needed her "strong and stable leadership" to steer Britain through two years of Brexit negotiations. 
Tighter Race
For a time the plan seemed to be working, but opinion polls have since tightened dramatically, with May's early 20-point leads over Labour dwindling in some recent surveys to just three points.
May's Conservatives have struggled to keep the debate focused on Brexit. The terrorist attacks and a blunder over elder care policy -- that led to a hasty reversal of a key manifesto pledge -- was the start of the shift in the polls.
Saturday night's London Bridge attack, in which seven people were killed and almost 50 more injured, temporarily halted campaigning. But the political truce broke down within hours.
Interviewed at a campaign event in the northern town of Middlesbrough, Corbyn explained why May should step down, or at least deserved to lose the election.
"There have been calls made by a lot of very responsible people on this who are very worried that she was at the home office for all this time presided over those cuts in police numbers," Corbyn said. "We've got an election on Thursday and that's perhaps the best opportunity to deal with this."
— With assistance by Svenja O'Donnell
Before it's here, it's on the Bloomberg Terminal.
LEARN MORE