Divine Wind: Japan Gets a Lift from Explosive Rally
Nikkei tops 20,000 mark for the first time since 2015
By
Nikkei breaches the 20,000 mark for the first time since 2015

Japanese wage growth advances at its fastest pace in two decades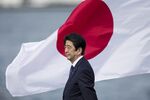 Japanese Prime Minister Shinzo Abe suddenly seems to have a divine wind at his back. A resurgent stock market is an unexpected bit of good news for Abe, whose signature policy of ultra-loose monetary expansion and economic reforms has delivered mixed results in recent years.
The benchmark Nikkei 225 Stock Average has spiked up 11 percent from an April 14 low, and it broke through the 20,000 mark on June 2 for the first time since December 2015. The rally came as the nation's corporate profits climbed to a record and attracted foreign investors, who snapped up more than $13 billion in Japanese stocks in eight straight weeks through May 26 after being net sellers earlier in the year.
"A lot of people are recognizing that the Japanese economy is showing a bit more life," said Ken Peng, a Hong Kong-based investment strategist at Citi Private Bank. "Equities in Japan are doing better than what dollar-yen is suggesting it should do. It's an improvement and people are looking more macro-bullish on Japan."
Later this week, Japan is expected to confirm its economy grew at an annualized 2.4 percent, the fifth straight quarter of expansion, an unusually long run of growth for the rapidly aging nation that reflects improved demand from export markets, including China, and improved capital spending at home.
Wage growth is rising with unemployment at a two-decade low, while the proportion of Japanese companies that beat analysts' revenue estimates exceeded 50 percent for the first time since the January-March quarter of 2015. After years of fits-and-starts growth, Japan is finally living up to the "moderate recovery" its policy makers have long touted.
That may be true, but the explosive rally in Japanese stocks owes much to a shift in capital flows. For one thing, the Bank of Japan continues to purchase exchange-traded funds and real estate investment trusts that trade on the Tokyo Stock Exchange as part of its expansive monetary policy. At the same time, Japan is starting to get a second look from global investors. Foreigners, who had been bailing on Tokyo equities in recent months, are buying again. Yet they can be a fickle lot.
Back in early 2013, Abe declared "Japan is Back" as he promoted his Abenomics economic package in speeches. Since then, Japan has hardly been a model of economic dynamism. If the Japanese stock market and economy maintain their momentum, he may have a better case to make in 2017.
-- With assistance from Yuko Takeo and Nao Sano
Before it's here, it's on the Bloomberg Terminal.
LEARN MORE