May Won't Guarantee Not to Raise U.K. Taxes as Election Looms
By
Premier swerves on pledges for national insurance, income tax

Polls show Tory lead waning with less than a week before vote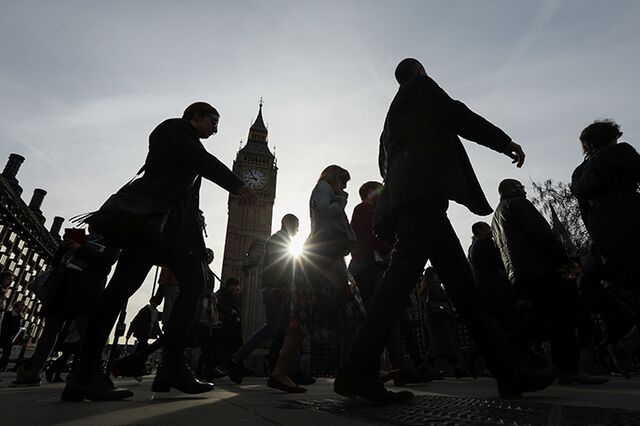 U.K. Prime Minister Theresa May declined to guarantee a Conservative government won't raise income tax or national insurance payments, saying only that her party "believes in low taxes."
"Our plans on tax have been set out in the manifesto: We are a party that believes in low taxes," May said Saturday at an election rally in Dewsbury, northern England, when asked if she plans to raise national insurance rates, a form of tax that is mainly used to pay for state benefits. "Our position on tax hasn't changed."
With five days until Britain votes in a snap election May called in April, her lead in opinion polls has narrowed, leaving her scrambling to shore up her vote. While Defense Secretary Michael Fallon and Foreign Secretary Boris Johnson suggested in the past 24 hours that tax increases aren't envisioned, the premier's answer suggests she's leaving herself wriggle room.
The opposition Labour Party, which in polls has closed to within as few as three percentage points behind the Conservatives from a gap of 24 points last month, seized on the Tories' mixed messages, with Leader Jeremy Corbyn saying "there's complete chaos going on at the top of the government."
"One minister says they're going to give no more tax rises indeed possibly tax reductions for the very wealthiest, then they can't answer the question about tax rises for the rest of the population, then they can't answer the questions about funding social care," he said in comments broadcast by Sky News.
The Tories' tax policies are being questioned because their program for government dropped a commitment, made in 2015, not to raise income tax, national insurance contributions or value-added tax, a sales tax. The 2015 pledge had hamstrung Chancellor of the Exchequer Philip Hammond. In the face of opposition from Tory lawmakers, he was forced to drop a planned increase in national insurance rates for self-employed workers a week after announcing it in his budget in March.
Johnson told the BBC's "Newsnight" program on Friday that the party has "absolutely no plans to raise income tax," a comment that fell short of an outright pledge. And Fallon gave an interview in the Telegraph ruling out tax rises for higher earners, a promise also left out of the election manifesto.
"We're not in the business of punishing people for getting on, on the contrary we want people to keep more of their earnings," Fallon told the newspaper. "The only way they can be sure their taxes won't rise is to vote Conservative."
"The mask has finally slipped: the only guarantee the Tories are prepared to give at this election is to big business and high earners," the party's finance spokesman, John McDonnell, said in a statement. "Low and middle income earners have seen no guarantee from Theresa May that their taxes won't be raised."
'Raises Suspicions'
The Liberal Democrats, the former coalition partner of the Conservatives, said the Tory stance on taxation "raises suspicions."
"Michael Fallon's comments raise the obvious question as to where the Conservatives will raise the money that their chancellor knows will be needed if promised funding for schools, the NHS, the police and defense is to materialize," Lib-Dem finance spokesman, Vince Cable, said in a statement, referring to the National Health Service. "We must assume that there will be an increase in National Insurance and in various 'stealth taxes' yet to be specified."
When asked on Saturday if she would say "categorically" she will not raise income tax, May said that "it's our firm intention to reduce taxes on ordinary working families." She repeated that line when asked if she planned to raise national insurance contributions.
May pointed to commitments to raise the thresholds at which people start paying income tax and at which the 40 percent rate of tax kicks in. That still leaves wriggle room to raise the actual tax rates and national insurance payments.
"The choice is very simple," she said. "A Conservative Party that's always believed in lower taxes, or a Labour Party with a manifesto that we know will mean higher taxes for all and ordinary working people paying the price."
Before it's here, it's on the Bloomberg Terminal.
LEARN MORE