Mattis Tells Asian Allies Stung by Trump: We're Still With You
By and
Attempts to quiet questions about U.S.-led 'rules-based order'

'Why should we not fret about the destruction of that order?'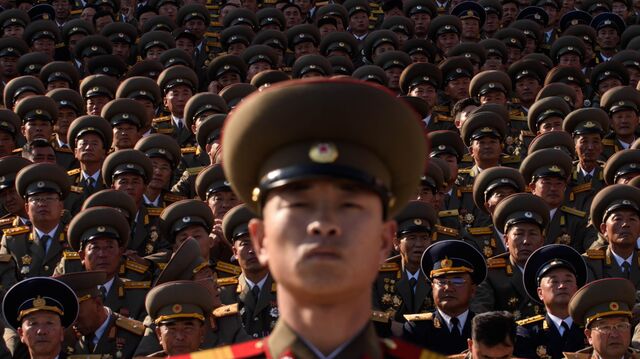 Defense Secretary James Mattis sought patience from Asian nations reeling from President Donald Trump's "American First" policy moves, insisting that the U.S. would continue to expand its engagement in the region.
Mattis used his speech at the Shangri-La security forum in Singapore on Saturday to affirm U.S. alliances that he said had helped keep the peace for decades in Asia. To underscore the point, he urged China, the region's rising power, to help rein in North Korea and warned it against showing "contempt" for other nations by asserting its claims to the South China Sea.
"The United States will continue to adapt and continue to expand its ability to work with others to secure a peaceful, prosperous and free Asia, with respect for all nations upholding international law," Mattis said. "Because we recognize no nation is an island, isolated from others, we stand with our allies, partners and the international community to address pressing security challenges together."

The speech came less than 36 hours after Trump announced his withdrawal from the 200-nation Paris climate change accord that he said disadvantaged the U.S. The move -- like an earlier decision to pull out of the 12-nation Trans-Pacific trade pact -- has rattled regional allies and created an opening for China to assert its growing economic and military clout.
"Trump's rhetoric is really raising a specter of American disengagement, a specter of complete uncertainty as to where the Americans are going," said Richard Heydarian, a professor of political science at De La Salle University in Manila. "You could really see the excruciating lengths Mattis went to, to say that the old order that the Americans created is still there."
NATO Concern
Such defense has become harder in the wake the Paris decision and Trump's trip to Europe last week, in which he demanded that other NATO leaders raise security spending and didn't explicitly reaffirm the alliance's guarantee to mutual defense.
"Given NATO, TPP and Paris, why should we not fret about the destruction of that order?" Michael Fullilove, the head of the Sydney-based Lowy Institute for International Policy, asked Mattis after his speech.
In response, Mattis said that Americans have historically been reluctant to bear the world's burdens and urged nations to give them time.
"Bear with us, once we've exhausted all possible alternatives, the Americans will do the right thing," he said, paraphrasing an oft-quoted remark. "We will still be there. We will be there with you."
To that end, Mattis said in his speech that the U.S. wouldn't allow smaller Asian nations to become bargaining chips. He said the U.S. would continue to move military personnel and assets into the region, a process begun under former President Barack Obama.
China Deals
"What I hear consistently is some anxiety based on the results of our election as to whether or not we are still committed to those core principals and to this region," U.S. Senator Chris Coons, a Delaware Democrat who sits on the Foreign Relations Committee, said on the sidelines of the conference.
Some in the region worry that their concerns about China's rising influence could be lost in Trump's pursuit of deals with Chinese President Xi Jinping on trade and curbing North Korea's nuclear-weapons program. 
Mattis reaffirmed all of the U.S.'s formal defense pacts in the region, describing at length efforts to support South Korea, Taiwan and the Philippines, where President Rodrigo Duterte has tilted toward China. Mattis said the U.S. backed Duterte in his clashes with Islamic State-linked militants and would help modernize the nation's military.
Whether Mattis convinced participants that Trump shared his support was unclear. Malaysian Defense Minister Hishammuddin Hussein told the gathering after the secretary's speech that the country was "still trying to figure out" Trump's policy in our region.
"I would like to know very clearly what are the true intentions of the new administration," Hishammuddin said.
Australian Support
Meanwhile, Australian Defense Minister Marise Payne said: "It didn't take Secretary of Defense Mattis's speech this morning to reassure me of the attitude and engagement of the United States in the region." Prime Minister Malcolm Turnbull had expressed similar confidence in Australia's U.S. alliance in a keynote speech to the gathering on Friday.
Turnbull was among several speakers who attempted to shift the annual conference's focus from doubt about the U.S. to its usual subject of concern -- China. Senior Colonel Zhao Xiaozhuo, a member of China's delegation, said that countries seemed to be targeting China during the forum.
"If China was really a big fish that wanted to bully small fish and shrimps, many of the shrimps wouldn't be around by now," Zhao said, citing a phrase used repeatedly by Turnbull. "China wants to use diplomatic and peaceful means, but not military force."
Mattis said China could prove its commitment to peace by helping to rein in North Korea's development of nuclear weapons. He said he agreed with Xi's assertion in April that the dispute could be resolved only if all sides lived up to their responsibilities. 
"Those words must be followed by actions." Mattis said.
Mattis will have another chance to reaffirm U.S. engagement in the region on Monday, when he joins Secretary of State Rex Tillerson for annual talks with their Australian counterparts.
"Our primary effort remains strengthening alliances," Mattis said. "This protects and promotes the principles we share with our steadfast allies. History is compelling on this point: nations with strong allies that respect one another thrive and those without stagnate and wither."
— With assistance by Marc Champion
Before it's here, it's on the Bloomberg Terminal.
LEARN MORE