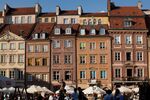 Poland is the latest European nation to grapple with the fallout of a once-popular consumer financial maneuver: taking out a mortgage in Swiss francs for a home far from Switzerland's borders. These Swiss-franc mortgage holders suffered a shock in 2015, when Switzerland ditched its peg to the euro, sending the franc 16 percent higher in a month. That left mortgage holders in Poland, Romania and Croatia and elsewhere suddenly much more in debt.
1. What made mortgages in Swiss francs so popular?
Switzerland for decades has boasted some of the world's lowest interest rates, so franc loans were a way for eastern European consumers to escape high borrowing costs in their home countries. In 2008, mortgages taken out in Poland's currency, the zloty, charged about 8.7 percent in annual interest on average, roughly twice that on similar Swiss-franc loans taken out from Polish banks. As the global financial crisis pushed western borrowing costs to zero, rates on new franc loans fell to 2.7 percent in 2010, central bank data show.
2. Which banks sold these mortgages?
Local banks throughout eastern Europe, not just Swiss banks. In Poland, the banking industry pushed nearly all lenders to offer non-zloty home loans, including those in francs. (Among the holdouts are Bank Pekao SA, the country's second-largest lender, and Alior Bank SA, which was created after the Swiss-loan boom.)
3. How many people did this?
More than a million, according to national estimates. In Poland alone, about 565,000 households have non-zloty loans, which total about $42 billion. This amounts to 39 percent of all mortgages and 24 percent of total loans to households, according to data from Poland's Financial Supervision Authority. Swiss-franc borrowers have become a household name in Poland. Known as "Frankowicze," or the Francovitz, they organized themselves into lobby groups that attend parliamentary hearings, pressure politicians and stage protests.
4. What's happened to those mortgages?
With the zloty weakening to more than 4 against the Swiss franc this year, from record highs of about 2 in 2008, many of these mortgages on Polish homes in Switzerland's currency are now worth more than the underlying property -- meaning the homes are, financially speaking, under water. (This plight also befell Swiss-franc borrowers in Austria, Hungary and elsewhere.) So far, however, there hasn't been a flood of defaults on those loans.

5. How will Poland deal with this?
Poland's financial regulator is planning to make it more expensive for banks to hold non-zloty mortgages. The hope is, that will make the banks convert Swiss-franc loans into zloty at terms acceptable to borrowers. Lawmakers are debating legislation that would give customers part of the money banks pocketed from "excess" spreads in currency-exchange transactions linked to such loans. That would cost banks as much as 9.1 billion zloty, or 65 percent of the industry's 2016 profit.
6. How have other countries responded?
In 2014, Hungary ordered banks to convert the equivalent of $14 billion in foreign-currency (mostly Swiss-franc) household loans to its national currency, the forint, at a set exchange rate and to offer some refunds to borrowers. A year later, Croatia's parliament voted to force banks to absorb 6 billion kuna ($912 million) in currency losses by fixing the exchange rate at which banks switched their loans. In 2016, Romanian lawmakers approved a bill to convert Swiss-franc loans into leu at below-market rates, but the law was struck down as unconstitutional by a court and no longer applies.
7. What do Poland's banks say?
Lenders are open to pitching in but want to focus their efforts on helping the neediest mortgage holders. State-controlled PKO Bank Polski SA, the nation's biggest lender, plans to offer relief to borrowers with a debt-to-income ratio exceeding 65 percent, if they convert their mortgages to zloty. Central bank Governor Adam Glapinski has called for greater cooperation with the finance industry, since the combined impact of the new regulations "can't be so tight that they weaken the stability of the banking system."
8. What is the government's view?
Poland's ruling Law & Justice party, which seeks to increase the role of the government in the economy and has been accused by the European Union of breaching democratic standards, initially was determined to punish banks for profiting from Swiss loans. But President Andrzej Duda has dropped his initial proposal for a forced conversion that would have cost banks as much as 67 billion zloty. Party chief Jaroslaw Kaczynski, who last year called foreign-currency loans a "modern form of slavery," urged Poles in February to get rid of the "abusive" terms of their loans by suing their banks rather than wait for legislation. Those comments relieved worries about a forced currency conversion, and Warsaw's WIGBank Index of listed lenders surged to a 19-month high that day.
The Reference Shelf
More on Poland's attempts to unwind its Swiss-loan problem.
Poland's response could affect its status as a destination for foreign investment, writes Bloomberg View columnist Leonid Bershidsky.
A QuickTake explainer on Poland's populist turn.
Before it's here, it's on the Bloomberg Terminal.
LEARN MORE