White House's Cohn Says He Isn't Interested in Fed Chair Job
By
Chief economic adviser says he's 'very happy' with current job

Trump can remake Fed in next year with new appointments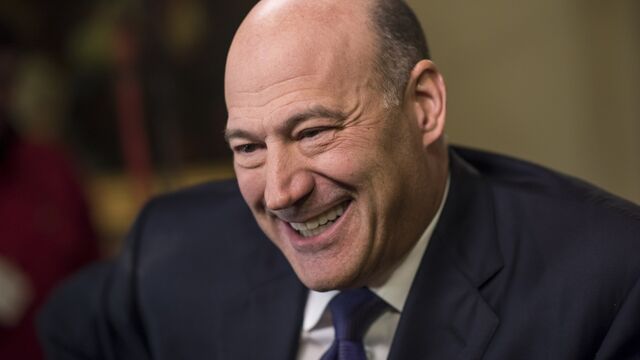 U.S. National Economic Council Director Gary Cohn said the White House had not decided on whether to keep or replace Federal Reserve Chair Janet Yellen when her term expires in February, while signaling he didn't want the job.
"We're not at a time when we're going to be even thinking about that," President Donald Trump's top economic adviser told Bloomberg Television Friday.
Asked if he'd want the position, Cohn said "I have a great job running the NEC right now" and added that he was "very happy." Fielding a similar question earlier on CNBC, he said, "No, I have a great job right now serving the president. It's been a dream come true. I come into work every day and I'm very excited to be in the White House."
Axios reported earlier this week that Cohn, a former president and chief operating officer of Goldman Sachs Group Inc., was eager to be named to lead the Fed.
Presented with an opportunity to remake the leadership of the U.S. central bank, the Trump administration has so far moved slowly in seeking to fill three senior positions already vacant and in identifying candidates for the bank's top two spots, both of which will open next year. Vice Chairman Stanley Fischer's term is up in June 2018.
Quarles Awaits
The White House has yet to nominate anyone to fill three open spots on the seven-seat Board of Governors in Washington, though it has been widely reported that Trump intends to tap Randal Quarles for one of those positions that also serves as the Fed's top banking regulator. Quarles was a senior Treasury official in the administration of President George W. Bush.
If neither Yellen nor Fischer are reappointed and step down as governors to leave the central bank, as traditionally occurs when leadership terms expire, that means Trump can name a majority of governors over the next year. 
Analysts have speculated for months over who might replace Yellen, with former Fed Governor Kevin Warsh, Stanford professor John Taylor, Harvard economist Gregory Mankiw and Columbia professor Glenn Hubbard getting frequent mentions.
Still, the odds of her being reappointed aren't zero. Trump told the Wall Street Journal in April that "I like her, I respect her," adding that "it's very early."
Before it's here, it's on the Bloomberg Terminal.
LEARN MORE