Macron Stands Up to Trump
The stories that shaped the week, and the big ideas behind them.
By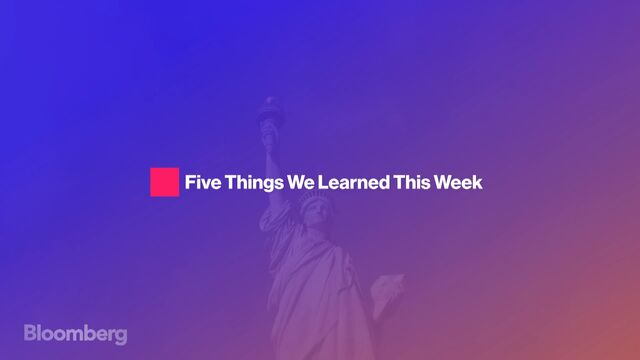 1) Macron Is the New Face of the Resistance

Until recently, it's possible that most people outside of France knew more about Emmanuel Macron's relationship with his wife than they did about the new French president's policies. His debut on the world stage changed that. Macron, 39, grabbed onto President Donald Trump's hand hard and didn't let go. He shared some bromantic moments with Justin from Canada. He dispensed with whitewashed diplomatic rhetoric and told Russian President Vladimir Putin what he really thought of state-controlled media and warned against the use of chemical weapons in Syria. On Friday, Macron told American scientists, engineers, entrepreneurs and other people disappointed by Trump's decision to withdraw from the Paris climate accord that they could find a second homeland in France. "I can assure you, France will not give up the fight," he said. And then this tweet went viral:
2) Seeking World Peace? The U.S. Is No Role Model
If you want to live in peace, move to Iceland. The island nation once again topped a ranking of the world's most peaceful countries. The study looks at indicators such as crime, political instability, prison population, military spending, impact of terrorism and participation in external conflicts.  The U.S. ranked No. 114, falling five places, largely because of perceived crime levels and internal conflict. "Both sides of the political divide [see] the other as a danger to the nation," said Steve Killelea, founder of the Institute for Economics and Peace, which produces the ranking, in an interview.

3) Ivanka Trump Strikes It Rich. Just Not With the Rich.
Don't be fooled by Nordstrom and Neiman Marcus. The ritzy department stores caused a stir when they dropped Ivanka Trump products earlier this year, citing the brand's productivity. But sales were actually up 21% in 2016. So what gives? The brand developed by the president's eldest daughter has evolved. She initially wanted to target luxury buyers who were interested in, for example, jewelry for $1,000 and up, but below ultra-high-end boutiques that sell pieces for $50,000. She even had a Madison Avenue boutique. "Somewhere along the way, though, Ivanka Trump went downmarket. Her label now represents a much more modest image, perhaps recognizing exactly where on the retail continuum her products truly reside," Bloomberg's Kim Bhasin and Lindsey Rupp write. The jewelry part of the business closed earlier this year, and you can still find plenty of merchandise. At stores like T.J. Maxx.
4) This Is What the Demise of Oil Looks Like

What happens if the big oil companies are wrong? Firms like Exxon Mobil say we'll need lots of oil for decades to come, even though electric vehicles and alternative energy sources seem to be taking off. Bloomberg's Jessica Shankleman and Hayley Warren crunched the numbers and found that energy efficiency alone could fuel-efficiency standards and other improvements could cause oil demand to sink. Electric vehicles will cause even more damage. Then comes the threat of alternative fuels, such as biofuels or liquefied natural gas. "A demand shift on this scale would have dramatic consequences for oil producers, who are among the world's biggest companies today," they write.
5) Petit Dejeuner or Petit Larceny?
These days, restaurants seem to spend all of their investors' money on interior design and bespoke touches. So it hurts when diners, inevitably, go home with more than a full belly. At Megu, a Japanese restaurant in Manhattan's Chelsea neighborhood, 65 plates worth $500 apiece have gone missing since October. At The Spotted Pig, people often take pillows from banquettes and pig decorations. Others take Jo Malone candles. Bloomberg's Kate Krader has a great roundup of all the crazy stuff you're stealing from restaurants. (They know you're doing it.)
Before it's here, it's on the Bloomberg Terminal.
LEARN MORE