May Seeks 'Good Deal for City' in Brexit Talks, CityAM Reports
By
Premier seeks to avoid 'cliff-edge' when EU pullout proceeds

London City district can't easily be recreated elsewhere: May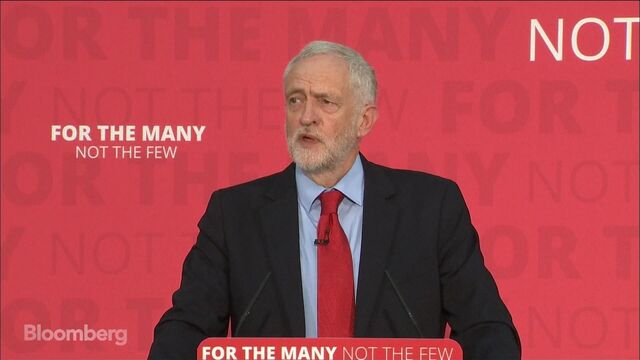 U.K. Prime Minister Theresa May said she'll seek a good deal for London's financial services district when she negotiates Britain's withdrawal from the European Union, and dismissed the notion that cities elsewhere could replicate the industry "overnight."
"We need to make sure we're getting a good deal for the City," May said in an interview published late Thursday by the CityAM newspaper. "It has taken many years for the City to build up those expertise, to build up that ecosystem [and it] can't be done by somebody else at the drop of a hat."
With Brexit negotiations due to start later this month, the comments mark May's strongest defense of the country's financial services industry to date. May is perceived as less friendly to business than her predecessor, David Cameron, and has railed against corporate greed and "international elites." At the Tory party conference in October, three senior figures in her administration told Bloomberg that the city would get no special favors from May in the Brexit talks.
Before the Brexit talks start, May must first negotiate the U.K.'s general election next Thursday. She called the surprise vote in April hoping to extend her majority and urging the electorate to strengthen her hands in the withdrawal negotiations. But in the past week, her lead in the polls has dropped as low as three points, from more than 20 points at the start of the campaign. Some projections even point to the Tories losing seats.
May also repeated her stance in favor of transitional arrangements to help ease City firms and other businesses into a new relationship with the EU. It "isn't in anybody's interests to simply walk towards a position where there's a cliff edge," she told CityAM. "People will need a time to adjust."
The Prime Minister's comments were welcomed by London financial lobby group TheCityUK.
"She is right to emphasize the unique ecosystem of financial and related professional services which has developed in London and across the U.K. over many years," TheCityUK Chief Executive Officer Miles Celic said in a statement. "It is in the interests of the U.K., the EU and the wider world to agree a deal which works for everybody."
(
Corrects to say new relationship is with EU in fifth paragraph.
)
Quotes from this Article
Before it's here, it's on the Bloomberg Terminal.
LEARN MORE