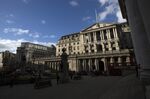 "This is going to be a more challenging time for households," Bank of England Governor Mark Carney said last month. "Wages won't keep up with the prices for goods and services they consume."
For employees at the U.K. central bank, those challenging times have already arrived.
Unite, the labor union that represents workers at the institution, is calling for a strike after the "pay pot" for the salary year which started in March was increased by just 1 percentage point.
"It is a source of shame that an iconic symbol of financial services in the U.K. is choosing to ride roughshod over the concerns of its dedicated and hardworking staff and impose this derisory pay deal," the union said in a statement.
It has a point. After more than three years of undershooting its inflation target, the Bank of England could be forgiven for giving itself a pat on the back as consumer prices finally accelerated by more than 2 percent in each of the past three data releases.
But the most recent figures show wages growing by just 2.4 percent and inflation accelerating by 2.7 percent. Brits are taking a pay cut in real terms.

In its most recent forecasts, the central bank predicted that weekly earnings will grow by an average of 3.5 percent next year and 3.75 percent in 2018. Economists, notably former Bank of England policy maker Danny Blanchflower (now an economics professor at Dartmouth College) expressed skepticism that wage growth will almost double in the coming years. The EY Item Club, an economic forecasting group, said last month it sees "negligible" real-wage gains as inflation accelerates, with nominal increases of less than 3 percent all the way until 2020.
Unless employers -- like the Bank of England -- start to boost incomes, workers will continue to see their incomes decline in real terms, denting consumer confidence and undermining their propensity to spend. In which case inflation may resume its slump back to the deflation-threatening levels that central banks -- like the Bank of England -- have spent billions of pounds, dollars and euros trying to cure.
This column does not necessarily reflect the opinion of Bloomberg LP and its owners.
Before it's here, it's on the Bloomberg Terminal.
LEARN MORE