Five Things You Need to Know to Start Your Day
Get caught up on what's moving markets.
By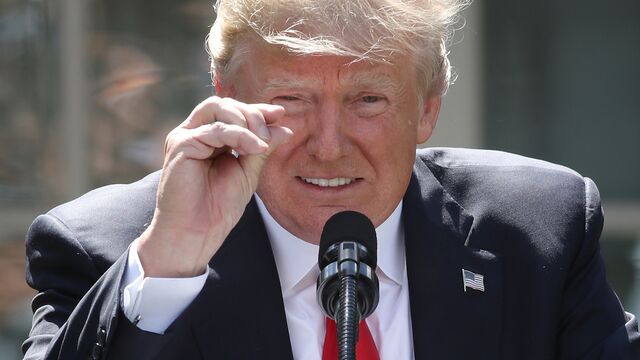 Want to receive this post in your inbox every morning? Sign up here
Trump's decision to quit the Paris accord is widely condemned, it's jobs day, and oil is set for weekly loss. Here are some of the things people in markets are talking about today.
Au revoir
President Donald Trump announced yesterday that he is pulling the United States out of the Paris climate agreement, a decision that was immediately condemned by heads of governments around the world and domestic business leaders. The announcement does not mean the U.S. will immediately exit the pact, as extracting the country from the global agreement will probably take years. On a more immediate basis, withdrawing from the pact subscribed to by about 190 nations means that the U.S. is likely to be seen to be pulling back from its traditional leadership role in global affairs. 
Jobs day
Economists estimate that payrolls data will show that the U.S. added 182,000 positions in May, when the numbers are released at 8:30 a.m. Eastern Time. The unemployment rate is expected to hold at 4.4 percent, with wage growth slipping to 0.2 percent. Yesterday's ADP Report had an upside surprise, with private payrolls rising 253,000, well ahead of the median forecast of 180,000.  
Oil drops
A barrel of West Texas Intermediate for July delivery was trading at $46.96 at 5:40 a.m., with the commodity set for its biggest weekly loss in a month as U.S. supply data suggested that OPEC's efforts to rebalance the market need more time. Within the organization there is pressure too, as data show Iraq's oil production hit a 2017 high in the run-up to the deal to extend production cuts. Trump's decision to abandon the Paris agreement may seem, at first blush, to be a big win for oil producers, the effect on the market may not amount to much more than symbolism. 
Markets rise
Overnight, the MSCI Asia Pacific Index gained 1 percent, while in Japan the Nikkei 225 Stock Average surpassed 20,000 for the first time since December 2015 as the yen slipped against the dollar for a second day. In Europe, the Stoxx 600 Index was 0.6 percent higher at 5:49 a.m. as investors awaited U.S. jobs data. S&P 500 futures were also gaining ground. 
Corbyn's rise
Jeremy Corbyn, the leader of the British Labour Party, continues to increase his appeal among U.K. voters ahead of next week's election, with his approval rating doubling since April. While the opposition leader, once called a "mutton-headed old mugwump" by the U.K.'s Foreign Secretary, is still unlikely to win the election, the momentum he is achieving against the struggling Theresa May is keeping markets alert to another British electorate June surprise. A new prime minister is being selected in Ireland today, with Leo Varadkar, the openly gay son of an Indian immigrant, favorite to win the party vote. 
What we've been reading
This is what's caught our eye over the last 24 hours.
Quotes from this Article
Before it's here, it's on the Bloomberg Terminal.
LEARN MORE