Your Evening Briefing
Bloomberg News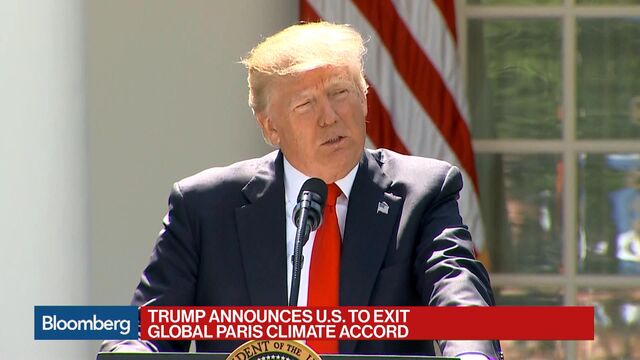 Want to receive this post in your inbox every afternoon? Sign up here.
"So we are getting out". President Trump announced Thursday the U.S. will withdraw from the landmark Paris accord, undoing decades of painstaking negotiations that brought almost 200 countries together in a fight against climate change. While the decision wasn't exactly unexpected (it was a campaign promise, after all), it does spurn dozens of business titans and world leaders who pleaded with the president to remain in the pact, arguing a multitude of economic and environmental consequences of an exit, including that it will undermine America's economic competitiveness and global leadership—not to mention the planet. A big concern now is that other nations could follow the U.S. in backing out.—Katie Robertson
Trump says the U.S. would withdraw from the Paris climate agreement and will seek to renegotiate the pact in a way that treats American workers better. Trump is kicking off a withdrawal process that will take until November 2020 to unfold—creating an opening for him to reverse course and injecting it as an issue in the next presidential election. For more climate coverage, subscribe to Bloomberg's new weekly Climate Changed newsletter.

What the Fed will be watching for in Friday's jobs report: the labor gauge both President Trump and Fed chair Janet Yellen embrace. The underemployment rate is a key measure for monitoring labor-market slack, and its recent plunge is welcome news for Americans who've missed out on the jobs recovery. The rate's decline underscores the bigger picture of a job market that has surprised many analysts with its persistent gains.
Fired FBI director James Comey will testify before a Senate panel on June 8 as part of the high-stakes investigation into Russian election-meddling. Comey will appear in an open session before the Senate Intelligence Committee, followed by a closed session. Senators will ask about Trump's statements to Comey about the Russia probe before the president fired him on May 9.
A smart beta ETF premised on cats rang up an 849,751% return, hypothetically. Bloomberg's Dani Burger designed her own factor fund built from companies with "cat" in their names as a way of learning about one of Wall Street's hottest trends—and its pitfalls.
The U.S. can't kick its addiction to social security numbers. They're deeply entrenched in American culture, but SSNs are a juicy target and are taken in the vast majority of data breaches because they're passports to a person's identity. The government has been trying (and failing) to lessen the dependence on the identifiers for nearly half a century.
The fast-casual dining boom is over. Fresh ingredients, no tipping and sleek design made chains like Chipotle and Potbelly a darling of the millennial customers every business strives to attract. But the once-enviable sales growth looks like it has hit a plateau, and fast-casual restaurant stocks lost 14 percent last year.
The whistleblower behind Caterpillar's massive tax headache could make $600 million. The IRS is demanding $2 billion. The Justice Department is weighing criminal charges. The feds raided the company headquarters in March. And the accountant who set in motion the investigation into Caterpillar, the world's largest maker of bulldozers, stands to collect the biggest whistleblower award ever.
Quotes from this Article
Before it's here, it's on the Bloomberg Terminal.
LEARN MORE