Wall Street Traders Crave Action. April and May Didn't Deliver
By , , and
Banks earn less as big geopolitical events like Brexit subside

For many traders, lower volatility means 'a very tough slog'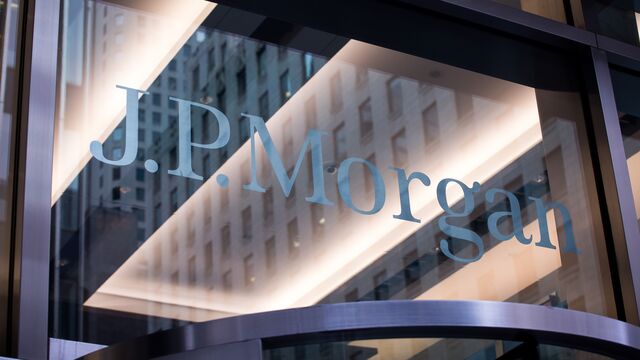 Many crises could've erupted in the world during the second quarter, and then didn't. That's not necessarily good for Wall Street banks.
Top executives at JPMorgan Chase & Co., Bank of America Corp. and Goldman Sachs Group Inc. are lamenting that there's too little happening in the world to spur investors to buy and sell. Yet at the same time, there's just enough uncertainty over geopolitics and U.S. tax reform to restrain corporate mergers and acquisitions.
Remarks from those three banks' leaders signal that almost a year of geopolitical turmoil that began with the U.K.'s surprise vote to exit the European Union, and then escalated with Donald Trump's surprise victory in the U.S. presidential election, may be cooling. Wall Street had gorged as customers adjusted to every shock. Now it seems many are inured: Trump's early morning tweets aren't enough to keep trading desks buzzing.
"Volatility hasn't been that great actually -- it's made for a very tough slog," Eric Wasserstrom, a banking analyst at Guggenheim Securities LLC, said Wednesday on Bloomberg Television. Still, "I don't know if we really want to be rooting for political dislocation as something that really helps the investment banking community."
'Idiosyncratic Events'
At JPMorgan, markets revenue tumbled about 15 percent in April and May from a year earlier, driven by a fixed-income slump, Chief Financial Officer Marianne Lake told investors in New York on Wednesday morning. At Bank of America, revenue from the business will be 10 percent to 12 percent lower, Chief Executive Officer Brian Moynihan said at another event that day. At Goldman, clients' trading remains "subdued," co-President David Solomon said.
"There haven't been that many idiosyncratic events, and we need a few more of them," Lake said. "As a sweeping generalization, low rates, a more cautious outlook on rates, and low volatility have led to low client flows and a generally quiet, subdued and challenging trading environment."
Morgan Stanley CEO James Gorman indicated his firm is seeing similar trading declines. The estimates from JPMorgan and Bank of America "are reflecting reality and I don't think we're very different," Gorman said in an interview with Bloomberg Television in Beijing on Thursday.
A lot hasn't happened this quarter. Centrist Emmanuel Macron prevailed in France's presidential election last month, heading off euro-skeptic Marine Le Pen and taking pressure off the currency bloc. Trump struggled to score major legislative victories. And while tensions escalated between the U.S. and North Korea, they didn't veer into open warfare.
Read more: Stress-free markets in calmest run since 2014
Still, the trading doldrums described by bank executives on Wednesday caught their shareholders off guard. Goldman Sachs's stock fell hardest, dropping 3.3 percent to the lowest since November, leading a decline in the Dow Jones Industrial Average. Bank of America and JPMorgan both slid more than 2 percent.
Investors were aware that volatility was muted but were expecting trading revenues to fall only about 5 percent from the year-earlier period, Gerard Cassidy, an analyst at RBC Capital Markets, said in a phone interview. 
"There's just been no event this quarter" comparable with last year's, such as Brexit, he said.
The Federal Reserve's meeting in June could provide fodder for bank clients, Cassidy said. Traders are expecting the Fed to outline how and when it plans to shrink its $4.5 trillion balance sheet. And futures prices indicate an 88 percent chance the Fed is poised to raise rates, according to data compiled by Bloomberg. If either of those don't go according to expectations, banks could jump on the opportunity to trade.
Underwriting Down
In the first quarter, profits at several of the biggest U.S. banks trounced estimates, fueled by revenue from fixed-income sales and trading. Altogether, the five biggest U.S. banks took in 51 percent more from debt underwriting than a year earlier, according to Bloomberg Intelligence. Fresh debts typically help spur trading in the secondary market.
This quarter, new debt issuance has waned or stagnated in almost every major market. U.S. investment-grade bond underwriting declined 6.7 percent, European deals dropped 18 percent, and emerging-market bonds were flat through May 31, according to data compiled by Bloomberg. Even new loans -- typically more desirable for investors when rates are rising because the interest they charge can adjust -- declined globally by 28 percent, the data show.
Equities trading -- a business that's been transforming into a lower-fee, largely electronic market -- may hold up for banks this quarter even after the CBOE Volatility Index for the S&P 500 neared a record low in May. In Europe, revenue from cash equities is on pace to rise 18 percent from the first quarter, while dropping "slightly" in the U.S., JPMorgan analyst Kian Abouhossein wrote in a note to clients May 23. Still, revenue from stock derivatives will decline across regions, he said.
Read more: Banks' bond-trading boom to end, JPMorgan says
JPMorgan's Lake listed equities, especially corporate derivatives and prime brokerage, as an source of strength for the period.
When it comes to mergers and acquisitions, uncertainties over European elections and U.S. tax reform have led companies to exercise caution, Solomon said. That's despite steady growth and a competitive environment that encourages CEOs to act. As a result, Solomon said he expects a "reasonable pace" for deals.
Gorman called the confluence of economic growth and political turmoil a "conundrum" for markets.
"There is enormous uncertainty, which typically would breed tremendous volatility, and it's not," Gorman said. "It's this very passive perspective that investors have, and I think the downside risk at this point is outweighing the upside risk."
Even if turmoil -- and thus trading -- revives, the reward for many employees may be limited. Executives said they're trying hard to keep a lid on costs. Goldman Sachs Chief Financial Officer Marty Chavez put it like this alongside Solomon: "As revenue growth occurs, you should expect comp growth to lag."
— With assistance by Jennifer Surane
Before it's here, it's on the Bloomberg Terminal.
LEARN MORE