U.S. Accused of Shortchanging NATO as Spain Reacts to Trump Spat
By and
Conde says U.S.'s contribution to NATO budget should be double

Deputy defense minister blames Trump for NATO divisions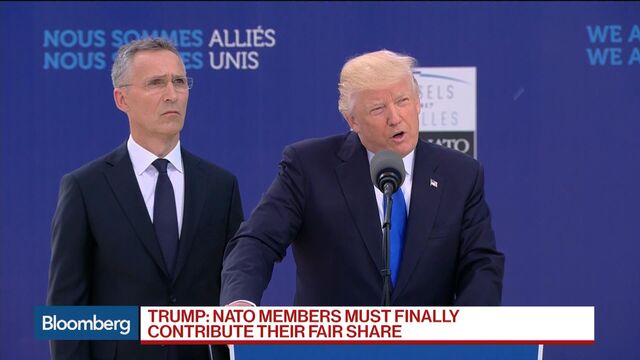 A senior Spanish defense official dismissed Donald Trump's complaints about European military spending as unjustified, saying that it's the U.S. who should be paying more into NATO.
Deputy Defense Minister Agustin Conde said the only firm financial commitment that North Atlantic Treaty Organization members have to the alliance is their contribution to its annual budget, which should be based on the economic output of each country. By that measure, he said, the U.S. is paying far less than it should.
"The U.S. should be paying about 50 percent of the NATO budget, they pay 24 percent," Conde, 51, said in an interview in Madrid. "It's not right to say that European countries owe money."
Trans-Atlantic relations have been roiled in the past week after long-standing U.S. frustrations about Europe's lack of defense spending erupted at a summit in Brussels where Trump harangued his NATO allies. After three days of talks with Trump, German Chancellor Angela Merkel suggested that the U.S. had become an unpredictable ally and the European Union needed to redouble efforts to pull together.
While most NATO allies' contributions to its 2.2 billion-euro ($2.5 billion) annual budget are based on their economic output, the U.S.'s payments are capped with the agreement of all members. NATO's own budget is just a fraction of the alliance's overall outlay on defense, most of which comes from national governments. The U.S. accounts for some 70 percent of NATO's total military outlay while 23 of the 28 members fall short of the alliance's target of spending 2 percent of gross domestic product on defense. A NATO spokesman declined to comment on Conde's remarks.

"Many of these nations owe massive amounts of money from past years," Trump told NATO leaders in Brussels May 25.
Conde acknowledged that Spain is far from reaching the 2 percent target but insisted there is also a lot of time before the 10-year deadline agreed in Cardiff in 2014. He said that U.S. president's willingness to discard the normal diplomatic language is ruffling feathers in Europe.
"Trump's mode of expression is unusual and surprising, and not in an agreeable way," he said in his office, dominated by a portrait of King Felipe. "Spain, which pays 5.5 percent of the NATO budget, should be paying 1.2 percent. What is clear is that Spain pays its 5.5 percent religiously and does not owe a single penny."
U.K. Cooperation
Conde said he was optimistic that the military cooperation with the U.K. wouldn't be disrupted by its exit from the EU. He said two recent meetings he'd held with British officials had been conducted with "absolute normality" and there'd been no mention of Brexit.
Still, he said that the defense industry might be affected by the rupture since components for the Eurofighter and the Airbus A400M, a military transport plane, both cross between the U.K. and mainland Europe before final assembly and so could be subject to new levies.
Conde said he hopes to see Europe's relationship with the U.S. recover, while pinning the blame for the recent problems squarely on Trump.
"It wasn't Merkel or May who said that NATO was past its sell-by date, that was Trump," he said.
— With assistance by Jonathan Stearns, and Ian Wishart
Before it's here, it's on the Bloomberg Terminal.
LEARN MORE