Russia Probes Deepen Trump Scrutiny as Comey Testimony Nears
By
Cohen, Flynn subpoenaed, and Kushner also expected to appear

More subpoenas possible if witnesses don't cooperate fully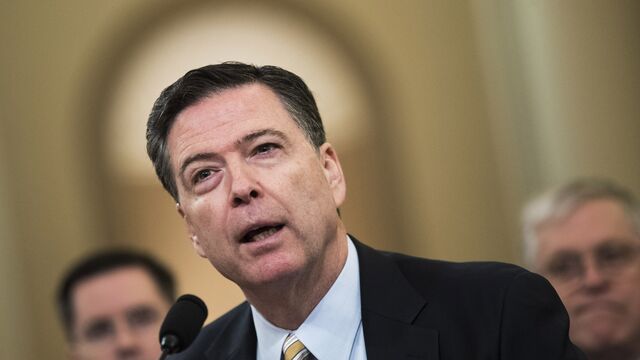 Congressional investigations into whether Donald Trump or his associates had improper contact with Russia are heating up, with the probes shifting toward a dramatic, public phase that's inching closer to the president himself.
Fired FBI Director James Comey may testify in open session as soon as next week in front of the Senate Intelligence Committee, where he will face intense questioning over whether Trump urged him to drop the FBI's Russia probe.
The Senate panel also plans to hear at some point from Jared Kushner, Trump's son-in-law and one of his closest White House aides. It's unclear whether that appearance would be in public or behind closed doors, but his testimony takes on new significance after revelations the FBI is looking at his discussions about setting up a back-channel communication with Russia after the election.
Kushner agreed to cooperate with the Senate probe March 27, when his meetings with Russians in December were publicly known but before the back-channel discussion surfaced. His lawyer, Jamie Gorelick, has said Kushner still plans to cooperate.
Trump has continued to dismiss the probes, labeling them a "Witch Hunt" in a tweet Wednesday and saying that Democrats are still sore about losing the election. "The big story is the 'unmasking and surveillance' of people that took place during the Obama Administration," Trump wrote on Twitter Thursday morning.
QuickTake: Unwinding the Twists, Turns in Trump-Russia Probe
The Senate Intelligence Committee, as well as its House counterpart, are still relatively early in the information-gathering stage. The House Intelligence panel approved subpoenas Wednesday to Mike Flynn, whom Trump fired as his national security adviser, and Michael Cohen, Trump's longtime personal lawyer.
The House also issued subpoenas focused on leaks of classified information and reports that identities of U.S. persons in spy intercepts were improperly unmasked. There is disagreement about whether those subpoenas to the National Security Agency, the Federal Bureau of Investigation and the Central Intelligence Agency were issued without the knowledge of committee Democrats. A senior committee aide said any subpoenas related to unmasking would have been issued by Representative Devin Nunes of California, the committee's chairman, who has recused himself from the Russia investigation after criticism over his handling of classified material.
Both panels have sent far-reaching inquiries for Russia-related documents to a number of other Trump associates, including former campaign manager Paul Manafort, former adviser Carter Page, longtime associate and Richard Nixon aficionado Roger Stone and others. 
The Senate panel has followed up letters with subpoenas for records at firms associated with Flynn, and the Washington Post reported that it asked for documents from Trump's presidential campaign. The committee has also requested financial information from the Treasury Department.
The Senate committee has already interviewed dozens of people -- mostly from within the intelligence community -- and continues to process numerous documents with raw intelligence at the CIA's headquarters in Langley, Virginia. Those documents formed the basis of the intelligence community's conclusion that Russia intentionally intervened in last year's election to help elect Trump.
For more politics coverage, subscribe to the Bloomberg Politics Balance of Power newsletter
Personal Loyalty
Panel chairman Richard Burr of North Carolina and Mark Warner of Virginia, its ranking Democrat, have said they are moving deliberately to gather as much information as they can before bringing in some of the bigger names for questioning.
But Comey's May 9 firing has forced them to move more quickly. 
Senators are eager to hear from Comey about reports Trump asked him for personal loyalty and to let Flynn off the hook, among other issues.
"Right now what is important is getting Mr. Comey in front of the Intelligence Committee quickly," Ron Wyden, a Democrat on the panel, said last week. "We have an obligation to inform the American people about what was done to our democracy."
Ultimately, the question is whether there was any collusion between Russia and Trump himself -- something Burr has said he hopes to answer. But the Comey firing has prompted new questions from Democrats about whether Trump engaged in obstruction of justice.
A hearing date for Comey hasn't been set.
"The committee welcomes the testimony of former Director Comey, but does not have an announcement to make at this time," said Burr spokeswoman Rebecca Glover.
House Intelligence Panel
The House Intelligence Committee is proceeding with its own parallel inquiry, which is focused more on Russian meddling, leaks of classified information, and reports that identities of U.S. persons in spy intercepts were improperly unmasked.
Meanwhile, the web of inquiries and near daily revelations about Russia -- described frequently by Senator John McCain as shoes dropping from a "centipede" -- has bogged down a president already dealing with poor approval ratings, a stalled agenda and constant talk of staff shakeups.
Flynn, who previously asserted a Fifth Amendment right not to turn over documents or testify, is preparing to offer some documents in his negotiations with the Senate panel, a person familiar with the matter said Tuesday.
And Cohen has dismissed any talk of collusion with Russia. "To date, there has not been a single witness, document or piece of evidence linking me to this fake Russian conspiracy," he said in a statement Tuesday. "This is not surprising to me because there is none."
'I Declined the Invitation'
He refused an earlier request for information by lawmakers.
"I declined the invitation to participate as the request was poorly phrased, overly broad and not capable of being answered," Cohen said.
More subpoenas could be sent if lawmakers don't get cooperation. The Senate Intelligence Committee gave Burr and Warner broad authority to issue them. And Burr warned Flynn could ultimately face a contempt citation if he doesn't comply with their requests.
Comey and the committee, meanwhile, have to weigh what he can say in public as senators try to "deconflict" their probe with ex-FBI Director Robert Mueller's criminal investigation. Burr said last week he has reached out to Mueller on the issue.
Trump, meanwhile, has continued to meet with candidates to replace Comey. He has denied colluding with Russia.
The White House has declined to say whether Trump himself had any role in the reported back-channel effort, which press secretary Sean Spicer said Tuesday was "not a confirmed action." On Wednesday, Spicer deferred future questions about the Russia probes to Trump's personal lawyer.
While Trump would clearly like to get the issues behind him, these probes are likely to drag on for months.
Before it's here, it's on the Bloomberg Terminal.
LEARN MORE