Obamacare Is Stabilizing in Pennsylvania, Unless GOP Disrupts It
By
Insurers seek 8.8 percent rate increase in individual market

Premiums could climb more than 20 percent if market undermined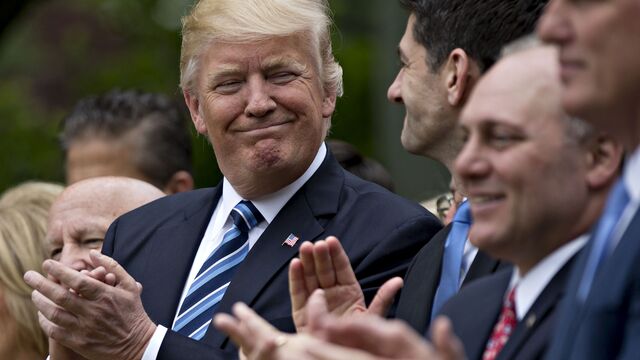 Prices for Obamacare health plans are stabilizing in Pennsylvania and will continue to unless the Trump administration and Republicans in Congress take action that would hurt the program, the state's insurance regulator said.
After a jump of more than 30 percent this year, insurers are raising their rates 8.8 percent on average in the Affordable Care Act's individual insurance market for 2018, the Pennsylvania Insurance Department said. All five insurers that sold plans this year will again offer health insurance next year in the market, which covers about 500,000 people in the state, according a department statement.
"These low percentages show that Pennsylvania's market is stabilizing and insurers are better understanding the markets and the population they serve," Insurance Commissioner Teresa Miller, a former federal health official in the Obama administration, said in the statement.
Increases in the cost of health insurance under Obamacare have become a political flash point, with Democrats and Republicans trading blame for the causes. Insurers across the U.S. have been raising rates as they struggle to profit from markets that were created by the Affordable Care Act for individuals to buy health insurance. Health and Human Services Secretary Tom Price has been touting a study put out by his department that shows premiums have doubled since Obamacare went into effect. The study doesn't account for the subsidies that help individuals afford insurance under Obamacare.
In Pennsylvania, insurers told the regulator what would happen if key pieces of Obamacare are eliminated or altered by Washington lawmakers. If Obamacare's requirement that all people buy insurance, known as the individual mandate, is repealed, companies would boost premiums 23.3 percent. President Donald Trump has threatened the health law's cost-sharing reduction payments that help patients pay out-of-pocket health expenses. If those were to end, premiums in Pennsylvania would climb an estimated 20.3 percent.
The story was similar in North Carolina. BlueCross BlueShield of North Carolina, the state's dominant insurer, said it assumed the cost-sharing reduction payments wouldn't be made, when it asked regulators to boost its premiums about 23 percent. The company said that if the federal payments were guaranteed to continue, it would have asked for an 8.8 percent rate increase.
Before it's here, it's on the Bloomberg Terminal.
LEARN MORE