Philippines Denies Terrorism After Casino Attack Killed 37
By and
No connection to uprising in southern region, spokesman says

Finance chief Dominguez sees potential impact to tourism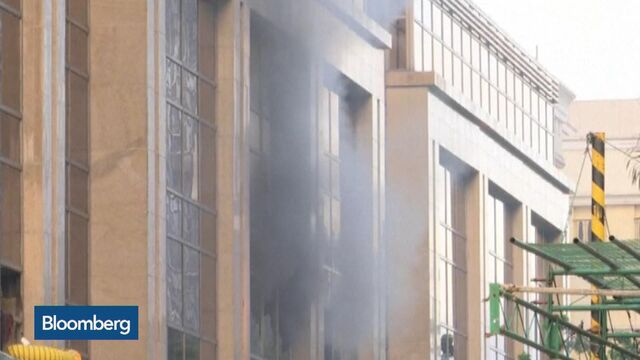 At least 37 people died at a Manila casino after a gunman attacked and set fire to the complex in an act that police say wasn't terrorism.
The death toll from the attack early Friday included the gunman, and there was no terror threat in the Philippine capital, Metro Manila police chief Oscar Albayalde said at a televised briefing. The victims appeared to have suffocated due to the fire at Resorts World Manila, presidential spokesman Ernesto Abella said.
Abella said the attack wasn't related to the insurgency in Marawi, a city on the southern island of Mindanao that has seen deadly fighting between government troops and Islamic State-linked militants since last week. The Philippines has been on edge since President Rodrigo Duterte declared martial law in Mindanao on May 23 amid concern that he may extend the order nationwide.
"Maybe there will be some questions about tourism coming in -- maybe we'll have a little dip," Finance Secretary Carlos Dominguez told reporters in Manila. Overall, business and investment in the nation "won't be affected," he said.
An Islamic State operative earlier indicated responsibility for the casino attack, according to SITE Intelligence Group, which monitors extremist activity.
People inside the hotel shouted "ISIS" as they rushed for the exits, Albayalde said. He said the "mentally disturbed" gunman doused himself in gasoline that he ignited before shooting himself in the head. The attack couldn't be related to terrorism because the suspect didn't shoot anyone, he added.
Islamic State
In Marawi, 175 people have been killed since fighting broke out on May 23, Philippine military spokesman Restituto Padilla said in a televised briefing Friday. The clashes began after state enforcers tried to capture Isnilon Hapilon, a commander of the Abu Sayyaf militant group who had pledged allegiance to the Islamic State.
The Philippine Stock Exchange Index, which climbed as much as 0.9 percent, closed 0.3 percent lower. The peso, which was little changed for most of the day, ended as the best performer in the region after advancing 0.4 percent to a six-week high of 49.53 per dollar.
"The market is taking it as it has been described in the news, that it is more of a criminal event rather than a terrorist event which just happened to coincide with what's happening in Mindanao," said Alan Cayetano, head of foreign exchange trading at Bank of the Philippine Islands. "For the most part, the reaction seems to be that it's not a cause for concern for the moment."
Casinos Drop
Still, shares of casino operators fell. Travellers International Hotel Group Inc., the venture of Genting Hong Kong Ltd. and Alliance Global Group Inc. that owns the besieged resort, dropped 7.9 percent. Alliance Global lost 3.8 percent. Other casino companies including Bloomberry Resorts Corp. and Melco Resorts and Entertainment Philippines Corp. also declined.
"The attack on Resorts World Manila will have a negative impact for gaming stocks over the short term," said Rens Cruz, an analyst at Regina Capital Development Corp. in Manila. The Philippine Amusement & Gaming Corp., which regulates the industry and also operates casinos, said it is closely coordinating with the management of all gaming operators to ensure the safety of guests and employees.
Casinos run by Bloomberry Resorts and Okada Manila were open for business Friday, with both operators reporting they have intensified security measures. Bloomberry said it has "direct links to police authorities should an untoward incident arise," and security measures are implemented around the clock.
AirAsia Bhd said flights to and from Manila Ninoy Aquino International Airport were operating normally, with no cancellations after the attack.
The suspect stole 113 million pesos ($2.3 million) worth of chips, police said. More than 50 people were injured and are receiving treatment in nearby hospitals, Resorts World Manila said in a statement on its Twitter account.
"This is a sad day for Resorts World Manila," it said.
— With assistance by Siegfrid Alegado, Ditas B Lopez, Andreo Calonzo, Norman P Aquino, Sterling Wong, Ian C Sayson, Abhishek Vishnoi, and Brendan Scott
Quotes from this Article
Before it's here, it's on the Bloomberg Terminal.
LEARN MORE