The U.S. Is The Loser as Trump Dumps the Climate Accord
The exit will undermine America's economic competitiveness, technological innovation, and global leadership. Not to mention the, um, planet.
By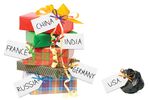 Take a deep breath. Donald Trump's mercurial nature may mean that the U.S. president will shift his position on climate policy once again. Or—take another deep breath—maybe not.
On the morning of May 31, alarms issued from various quarters following reports Trump was about to make good on a campaign promise to withdraw from the historic 195-nation Paris Agreement aimed at reducing global greenhouse gas emissions. Just a few weeks earlier, White House insiders had seemed to indicate that his daughter Ivanka's pro-Paris views might be holding sway. They were wrong. The potential consequences of Washington abandoning the climate pact are grave not only for the planet but also for the U.S., its economic competitiveness, technological innovation, and leadership of the world in the 21st century.

The U.S. exit from the Paris accord is a rupture in policy, a dramatic departure from the record of the last four U.S. administrations, both Democratic and Republican. The two George Bushes, Bill Clinton, and Barack Obama held a pretty consistent line about international climate politics. It went like this: Washington wouldn't go along with any international agreement that gives poor countries a pass on carbon reduction. The warming atmosphere was a global problem, and everybody must play some part in the solution.
Developing nations cried foul, with China and India complaining the loudest. They were late to reap the benefits of fossil-fuel burning, which had fed the commerce and industry that enriched the nations of the West, as well as Japan. They weren't going to sign away a chance to lift billions of citizens out of poverty because of a problem created by two centuries of dominance by industrialized nations. The climate fight divided rich and poor nations for a quarter century, until evidence and the pleadings of climate scientists eventually pushed the U.S. and China to cooperate and lead the world into a framework for international action.
In December 2015 the negotiations arrived at something Americans typically celebrate: Almost all the nations of the Earth (Nicaragua and Syria were two exceptions) agreed on the plan, brought together for the most part by the political and moral authority of the U.S.
The accord remains a fuzzy compromise. Climate Action Tracker, a research group, estimates that even if all nations meet their stated goals, the world would still heat up by about 2.8 degrees Celsius (or 5F) by 2100, which is well beyond the 2C limit long sought by policymakers. But without any change to current policies, the planet may be headed for about 3.6C of warming—a condition that could challenge the extent and longevity of much of modernity, not to mention wreak havoc on the coastlines of every continent. According to the latest estimates, from 2015, the U.S produced 14 percent of the world's greenhouse gas emissions. China's share was 29 percent.
Despite the shortcomings of Paris, the community of nations that came together for the accord gave industries worldwide a soft signal: It's time to clean up dangerous 19th and 20th century energy and agriculture systems—if we want the future to be prosperous and sustainable.
And that's what many companies have been doing. In fact, the global energy industry—which has been known for its penchant for decades-long planning and pervasive resistance to change—has become one of the nimblest, fastest, and most innovative industries around. American companies have led this transformation. "For a lot of companies across the United States, the handwriting is on the wall, that this climate change stuff and carbon emissions is an important problem," says Gary Yohe, an economics and environmental studies professor at Wesleyan University. Exxon Mobil Corp. and ConocoPhillips Co. both back the climate agreement.
The U.S. is the world's leading producer of natural gas (which burns cleaner than coal and oil) and is busy building export terminals to bring the fruits of fracking to overseas markets. Solar power is projected to be the least-expensive electricity technology in most of the world by 2030, and onshore wind costs will fall an additional 40 percent by 2040, according to Bloomberg New Energy Finance. It's all part of what may become the greatest opportunity for wealth creation of the 21st century. With Trump's decision to pull out of the agreement, the U.S. is giving a gift to the rest of the world. A climate-renegade U.S. will only empower and encourage China, Europe, India, and virtually everyone else to focus on these increasingly profitable technologies and markets.
The advances have created a clear economic loser. The coal industry, which Trump championed during his election campaign, has yielded its leadership in American power production to natural gas. Coal's primacy won't be restored by the U.S. pulling out of the Paris Agreement. Markets simply don't appear to want coal as much as they used to. World coal production peaked in 2013. "China is meeting its Paris accord targets, and more, by shutting down coal-fired power plants," says Yohe. Bad air has already led China's policymakers to let coal production stall or drop a percentage point from 2013 to 2016. Regulators there canceled more than 100 planned coal-fired power plants in January. Yohe says the Chinese will "leave a lot of coal in the ground that they already know is there."
Even India, where about 250 million people live without any electricity, canceled 14 gigawatts of planned coal facilities last month, en route to its 2022 goal of 100 gigawatts of solar generation. "I think a new coal plant would give you costlier power than a solar plant," India's energy minister, Piyush Goyal, said last year.
China and the European Union wasted no time pledging closer collaboration on trade, pointedly calling clean energy their "main pillar." The biggest trouble for U.S. companies, and a benefit for those in China and other countries, would be a situation in which the rivers of finance and renewable energy infrastructure begin to bypass the U.S., creating in China what Trump promised Americans: jobs. As it stands, China in 2016 employed 2 million people in solar energy-related jobs, about two-thirds of the world total and more than eight times the number in the U.S., according to the International Renewable Energy Agency.
Indeed, China, the next biggest economic power on Earth, would accede to the lead role in climate reform if the U.S. exits the Paris accord. While that nation's leaders once believed that global warming was a hoax, at this year's Davos conference, President Xi Jinping said, "It is important to protect the environment while pursuing economic and social progress so as to achieve harmony between man and nature, and harmony between man and society." Chinese solar power output increased 80 percent in the first quarter of 2017. And the potential for additional growth is immense: Most of that increase came from just two regions of the country. Xi has unveiled a plan to dramatically reduce the country's dependence on fossil fuels by 2030 by turning to solar and wind power sources.
Trump had a couple of options for a pullout. He appears to have decided to proceed with a slow-motion extrication that could take three and a half years. With all the environmental rollbacks Trump has ordered, the U.S. wasn't poised to meet its Paris commitments anyway. The three-year goodbye would at least guarantee that the U.S. has a seat at the negotiating table and stays in the conversation. The president could have done something more drastic: withdraw from the United Nations Framework Convention on Climate Change, the landmark 1992 treaty that underpins the Paris Agreement. That's a step urged by conservative activists and would have taken effect immediately.
As much as Beijing may relish taking over the spotlight—and making good on Xi's nature-child rhetoric—the People's Republic will likely interpret its role with the same self-interest that's driven its global economic expansion. The U.S. exit might embolden others to leave the pact as well, believing that it had become an agreement that once again benefited a single established ruling clique—and not the universal good of all nations and the planet.
 
—With Jennifer A. Dlouhy
Before it's here, it's on the Bloomberg Terminal.
LEARN MORE