Haircuts Offer Better View of Economy Than Cars, Matus Says
By
Matus says car loan losses won't duplicate housing crisis

Bet on the U.S. rather than underdog Europe, he advises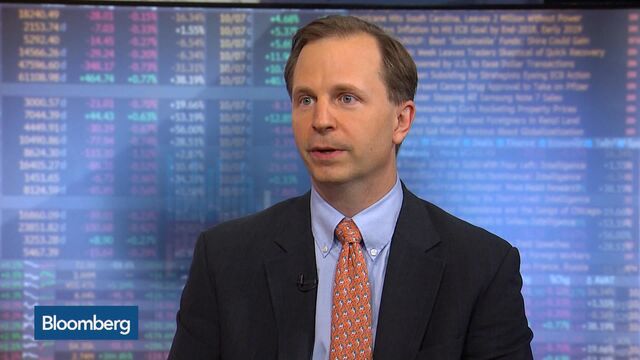 MetLife Inc.'s Drew Matus said investors should look beyond slumping car sales and defaults at subprime auto lenders and invest with confidence in the U.S.
"They are less important to me than spending on services," Matus, the chief market strategist at MetLife Investment Management, said Thursday in an interview on Bloomberg Television. "What always causes a recession is when people look around and they say, 'I'm not going to go get my hair cut because I don't want to spend the $20.'"
While U.S. stocks are trading near record highs, they have trailed equities from the rest of the globe since mid-March. Banks in the world's largest economy have slumped in recent months, in part because of concerns of losses on loans to risky car buyers. Matus said investors sometimes are inclined to wrongly assume that a region like Europe will extend its outperformance on monetary easing after a period of mediocre returns.
"The whole underdog story is a great story, everyone loves the underdog," Matus said. "In this case though, I'd bet on the front-runner."
Matus joined New York-based MetLife this year after previously working as deputy chief U.S. economist for UBS Group AG. He said that excesses in auto lending are unlikely to infect the broader economy the way the subprime residential mortgage mess fueled a credit crisis.
Cars, Houses
The difference is that credit was once so widely available in real estate that it wound up pushing up property values across the market, adding risk even to borrowers who would ordinarily be considered creditworthy, he said. When the bubble popped, people and banks found out the hard way that they took on too much risk. Losses tied to cars will be more contained, he said.

The pain in the auto market is felt most by a "subset of Americans who are having difficulty making ends meet who are going for these longer-term loans," Matus said. "They are the ones who end up in trouble when things turn south."
Light vehicle sales at General Motors Co. fell 1.3 percent in May, trailing analysts' estimates for a 4.3 percent increase, according to data released Thursday. Analysts project the industrywide selling rate, adjusted for seasonal trends, may have slipped last month to about 16.8 million light vehicles, compared with 17.2 million a year ago.
Still, some employment data have been been encouraging. U.S. companies added 253,000 workers to payrolls in May, indicating the job market is powering ahead, data from the ADP Research Institute showed Thursday.
"I think the economy's doing fine," Matus said. "If you take the longer view on the economy, what you see is accelerating growth. You see a consumer that's in pretty good shape, you see the prospects for more investment going forward."
— With assistance by David Westin, and Alix Steel
Quotes from this Article
Before it's here, it's on the Bloomberg Terminal.
LEARN MORE