Cape Town Water Shortage Reaches Crisis as Dam Levels Sink
By
City tightens restrictions to cut usage as dam levels sink

Shortages unlikely to abate, Cape Town Mayor De Lille says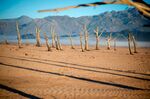 Cape Town has tightened water usage restrictions, banning the use of potable water to irrigate gardens, wash cars or top up swimming pools, as it confronts its worst drought on record and a delay to the onset of the winter rainy season.
The level of usable water in dams that supply South Africa's second-largest city and top tourist attraction dipped below the 10 percent mark this week, down from 20 percent a year a ago. While Capetonians cut average daily summer consumption to 666 million liters (176 million gallons), from 1.1 billion liters a year ago, that's still shy of the city's 600-million-liter target.
"To run out of usable water is to be presented with a crisis of catastrophic proportions," Cape Town Mayor Patricia de Lille said in an address to the city council on Wednesday. "We cannot be sure whether it will rain this winter. We have gone through May with nothing much to show with regard to rainfall. June might be better, but the point is we do not know."
Besides a lack of rain, which has been partly been attributed to climate change, Cape Town has had to contend with surging water demand. The population burgeoned to 3.74 million at the time of the last census in 2011 , a 45 percent increase from 1996, and has continued to grow steadily since then. The drought also affects much of the surrounding Western Cape province.
'Tight Spot'
"Our real concern is the next summer season," James-Brent Styan, a spokesman for the provincial ministry for local government, environmental affairs and development planning, said in an interview on Thursday. "The reason we are in this tight spot right now is because our dams weren't full enough at the beginning of this season. Every year it is getting worse. If we don't get a very good rainy season, we are in for a tough time."
While the city has plans in place to augment the water supply, including raising dam walls, tapping aquifers from the city's landmark Table Mountain, reusing waste water and building a desalination plant, most of the projects may take several years to implement. In the interim, the city is considering enforcing even tighter usage restrictions within 60 days and reducing water pressure to drive down consumption to 500 million liters a day.
The city warned residents Thursday to store an emergency supply of drinking water in case of intermittent shut-downs. The provincial authorities have contingency measures in place should the water supply run out to some towns, including trucking in water, according to Styan.
Before it's here, it's on the Bloomberg Terminal.
LEARN MORE