Fed's Powell Has an Eye on Inflation as He Calls for Rate Hikes
By and
Centrist governor supports gradual rate increases if data hold

Important to show commitment to symmetric 2% inflation goal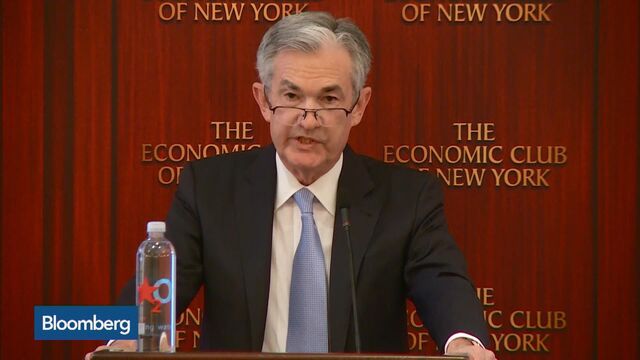 Federal Reserve Governor Jerome Powell is calling for gradual interest rate increases and a start to balance-sheet reductions later this year if the economy stays on track, though he's watching a recent slowdown in inflation.
"It is important that the Committee assess incoming inflation data carefully and continue to demonstrate a strong commitment to achieving our symmetric 2 percent objective," Powell said Thursday in remarks prepared for delivery at the Economic Club of New York.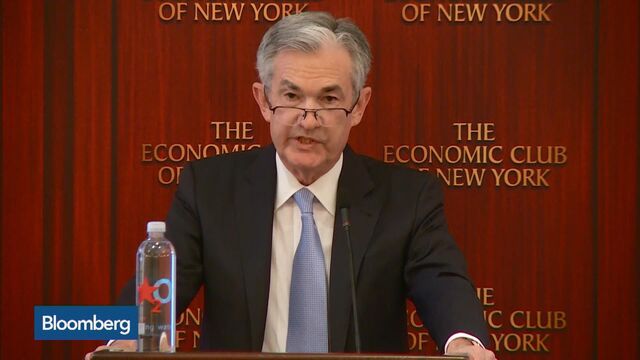 Powell, who has been in office since 2012, is a centrist when it comes to monetary policy. His comments are in line with what colleagues including Governor Lael Brainard and Dallas Fed President Robert Kaplan have said this week: Economic momentum is holding up, but a recent dip in inflation away from the Fed's 2 percent goal bears watching as the year progresses.
"Inflation has been below target for five years and has moved up only slowly toward 2 percent, which argues for continued patience, especially if that progress slows or stalls," Powell said in his prepared remarks. "If the economy performs about as expected, I would view it as appropriate to continue to gradually raise rates."

Investors see the probability of a rate hike when the policy-setting Federal Open Market Committee meets June 13-14 at around 85 percent, according to prices in federal funds futures contracts.
When it comes to the Fed's asset holdings, Powell said he would "also see it as appropriate to begin the process of reducing the size of the balance sheet later this year."
The Fed is discussing how and when to shrink its $4.5 trillion portfolio of assets. At its May meeting, nearly all officials "expressed a favorable view" of a staff-presented general approach to shrinking the balance sheet that would involve gradually increasing run-off caps every three months. The caps would would start off low and eventually reach fully phased-in levels, which would then be held in place until the size of the balance sheet was normalized.
Market reactions to balance sheet discussion so far "augur well for an orderly phaseout of reinvestments," Powell told the audience in New York, though "if changes to reinvestment policy do tighten financial conditions more than anticipated, then I expect that the FOMC would take that into account."
Powell said that he expects unemployment, now at 4.4 percent, will decline further and remain at low levels "for some time."
That "could draw more workers into the workforce, put upward pressure on wages, or cause businesses to invest more as labor costs rise, all of which I would view as desirable outcomes," he said.
While the job market has been growing at a solid clip, the Fed's preferred gauge of inflation has shown signs of slowing. The Commerce Department's headline index fell to 1.7 percent in April, down from 1.9 percent in March. Core inflation has dropped to 1.5 percent.
"There are good reasons to expect that inflation will resume its gradual rise," Powell said. "Incoming spending data have been relatively strong, and the labor market should continue to tighten, exerting some upward pressure on wages and prices."
Before it's here, it's on the Bloomberg Terminal.
LEARN MORE