Dow Limps Back to Record, This Time Without Goldman or JPMorgan
Oliver Renick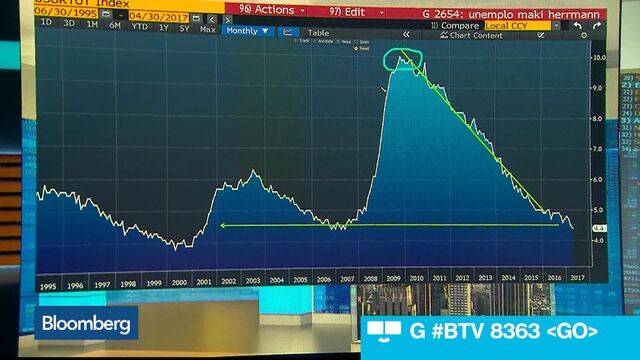 Carried by industrial, consumer and tech companies, the Dow Jones Industrial Average circled back to record territory. It did it this time without the stocks that fueled the strongest stretches of the Trump trade.
The 120-year-old Dow became the last major U.S. equity gauge to snap out of a malaise that was underscored by a 373-point rout on May 17, when questions arose about the president's dealings with his FBI director. Since then, companies such as Wal-Mart Stores and Caterpillar Inc. have surged, while megacap financial firms including Goldman Sachs Group Inc. and JPMorgan Chase sat still.
It's another indication of divisions within the bull market that may foretell its staying power. While it's axiomatic on Wall Street that rallies never get anywhere without banks, some see reason for optimism when the advance is carried by companies that may not need President Donald Trump's policy agenda to succeed.

"It's a good sign," Marshall Front, who manages $800 million at Front Barnett Associates LLC in Chicago, said by phone. "People got crazy and went overboard on the Trump agenda. This is a shift away from that reflation play."
The Dow's reliance on consumer shares this year epitomizes the dramatic shift in investor psychology over the last six months. 
Banks and oil companies took the spotlight in the wake of the November election as investors prepared for higher inflation and regulatory rollbacks from the Trump administration. Such hopes are on life support as gridlock and disarray grip Washington and rebounding earnings lift tech stocks.
Rising corporate profits are consistent across the biggest winners in the Dow. McDonald's Corp. just posted its eighth straight quarter of better-than-expected earnings, and Apple Inc. beat forecasts for the fourth time on its last report. Caterpillar stock surged 7.9 percent when it reported earnings on April 25.
Due to its slower climb, the Dow has fewer stocks trading at elevated levels than its peers, data compiled by Bloomberg show. About 57 percent of its members are trading above their 50-day average, compared with 87 percent at the last record. In the S&P 500, about 65 percent are trading higher.
Before it's here, it's on the Bloomberg Terminal.
LEARN MORE