De Beers South Africa Takes State to Court Over Export Exemption
By
Exemption license for rough diamonds was reportedly denied

Court process running parallel to talks with government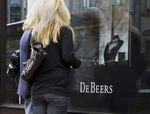 De Beers, the world's biggest diamond producer by value, has taken South Africa's government to court, after a report it was denied an export license by the country's Department of Mineral Resources.
The division of Anglo American Plc will also seek to engage the department in talks regarding the export exemption, the company said in an emailed statement. It declined to comment further, citing the court process. Johannesburg-based Mining Weekly reported Wednesday that the annual exemption had been denied, without saying where it got the information.
Ayanda Shezi, a spokeswoman for the Department of Mineral Resources, didn't immediately respond to requests for comment.
South Africa prohibits the export of rough diamonds unless miners meet certain conditions to encourage more cutting and polishing of the stones within the country. De Beers has qualified for an exemption since 2008 because, after exporting the gems to its global mixing unit, it re-imports higher-value diamonds to be processed in South Africa, Mining Weekly said.
De Beers produces diamonds from its Venetia and Voorspoed mines in South Africa but also has operations in Botswana, Namibia and Canada.
Before it's here, it's on the Bloomberg Terminal.
LEARN MORE