Corbyn Turns From U.K. Punch Line to Serious Contender
By , , and
'Mutton-headed old mugwump' confounds Tories' expectations

Labour leader comes across as 'genuinely affable': pollster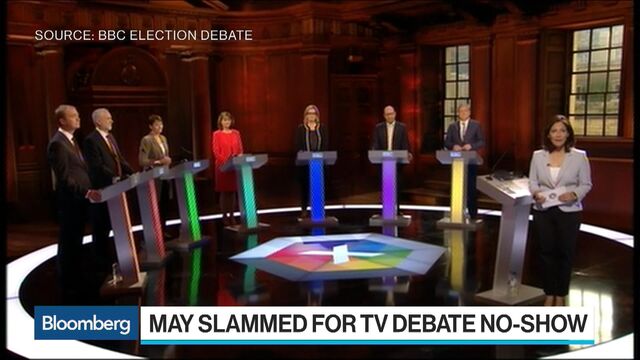 Theresa May's surprising call for an election June 8 rested on one calculation above all: defeating Jeremy Corbyn was a sure thing. Crushing the Labour leader was the goal.
Her Conservatives saw him as a shambolic joke -- a "mutton-headed old mugwump" -- who barely had the support of his own party.

But what May's strategists didn't see coming was that the white-bearded Corbyn, 68, would grow on voters the more they saw him. And the more they saw of May on the campaign trail, the less she appealed.
"When he's got a nice suit on and he's there on the TV sofa, he doesn't come across as an evil monster, he comes across as a normal bloke," Anthony Wells, director of political polling at YouGov Plc, said in a telephone interview. "He's not a central casting prime minister like David Cameron was -- a pink-faced posh bloke -- but a genuinely affable grandfatherly bloke, a bit absent minded, he forgets figures sometimes, but I think people can fit that into the image of a prime minister."
While few people expect Corbyn to pull an upset and become the first prime minister in more than a century to sport a beard, his personal rating on "who would be the best prime minister" has doubled to 30 percent from 15 percent when May called the election on April 18. In London, he opened up a 17-point lead against her, an Evening Standard poll showed Thursday.
'Group Hug'

"I do a lot of group hugs with lots of people," Corbyn told a crowd of supporters in Basildon, east of London, on Thursday. "I love a group hug meself!"
Greeted with a standing ovation, Corbyn has relaxed in the closing stretch of the campaign. At the rally, he attacked May's claim that she is the best person to tackle Brexit talks. He unveiled a three-person team of negotiators and called the prime minister's approach "reckless."
His gains threaten May's hopes of an "unassailable" majority, which she says would strengthen her hand in Brexit negotiations. After all, she ascended to 10 Downing Street to replace David Cameron after the referendum last year without having faced voters.

To be sure, Corbyn has been helped by May's lackluster campaigning, particularly a U-turn on care for the elderly. Her decision to use the Manchester bombing, in which 22 people were killed, to attack the Labour leader's security policies also appeared to backfire when a poll showed 46 percent of voters agreed with him that foreign interventions in Iraq, Libya and Afghanistan had made Britain less safe.
"Theresa May is a terrible campaigner. If she weren't, we wouldn't be here," said Steven Fielding, professor of politics at the University of Nottingham. "She's done as much as she can do to undermine her own campaign."
May has switched to a more positive campaigning style, a move that reflects the failure of personal attacks on Corbyn. Veterans of Sadiq Khan's victory in the London mayoral campaign last year say vitriol directed at him by the Conservatives simply galvanized his supporters.
Subscribe to the Bloomberg Politics Balance of Power newsletter
Corbyn's allies have long said that once people got to know him they'd start seeing him as a serious contender. He won the Labour leadership against the odds and could do the same in the country, they reasoned.
"Clearly the polls showed at the start that people had reservations about Jeremy," said Bill Esterson, Labour's small business spokesman. "But the more people have seen of him, I think they've been pleasantly surprised."
After seven years of Tory spending cuts, his back-to-the-future socialist-tinged message resonated as well. Corbyn advocates re-nationalizing the railways, scrapping university tuition fees and extending free child care. He has drawn crowds of thousands to his rallies, boosting Labour's support among students and young people.
And then there's a soft-spoken modesty he projects. "Did I ever set out in life to become prime minister?" he said on the couch of the BBC's 'One Show'. "No. I set out in life to try and change things and try and bring about greater justice in our society."
Still Behind
The Conservatives still have a substantial advantage over Labour when it comes to which party is best placed to manage the economy, leading by 38 percent to 22 percent, according to a YouGov survey carried out on Tuesday and Wednesday. Labour's rating is up from a low of 13 percent in February and was unaffected by Corbyn's inability to remember the cost of his 5.3-billion-pound ($6.8 billion) flagship childcare policy in a radio interview, according to the poll.
What is beyond dispute is that May began the campaign with a 20-point lead over Labour, and now one YouGov survey on Thursday puts her Tories just four points ahead of Labour. Some of this may be due to Labour supporters "rallying to the leader" and "convincing themselves he's not actually that bad," according to YouGov's Wells.
In Britain's electoral system, voters choose their local representative in the House of Commons, rather than voting directly for the prime minister and, as candidates knock on doors to canvass support, for some Corbyn is no longer enough of a deterrent to stop them backing Labour.
"I'll probably vote Labour, not because I like Corbyn, but because I like the party and what they stand for," Alison Bushell, 47, a former science teacher from North Wales, said in an interview.
For others, Corbyn and the people around him are still enough to put them off the party that they've backed all their lives.
"There's something about him. He's the type of person I wouldn't trust," said Godfrey Brewer, 76, a retired joiner from Stockton, who said he'll probably switch from Labour to the Liberal Democrats.
Corbyn's supporters look to the unexpected victories for U.S. President Donald Trump and the Leave campaign in last year's EU referendum as evidence polls can and will be confounded.
"Jeremy Corbyn has got a really good vision and does want to change the country for the better rather than lining the pockets of the rich," said Stewart Platt, 29, from Newcastle, in northeast England, though he isn't letting himself get carried away.
"It's like watching England in the World Cup," he said. "You know it's not going to happen, but you want them anyway."
— With assistance by Alex Morales
Before it's here, it's on the Bloomberg Terminal.
LEARN MORE