China Resources's Former Chairman Jailed 14 Years for Corruption
Bloomberg News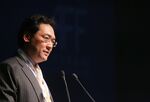 Former China Resources Holdings Co. chairman Song Lin has been sentenced to 14 years in prison for bribe-taking and embezzlement, state media reported.
Song was fined 4 million yuan ($587,000) for stealing public assets worth over 9.74 million yuan from 2004 to 2013, the official Xinhua News Agency said. He also pleaded guilty to accepting bribes of more than 23 million yuan.
Song is the third high-profile figure to be sent to prison for corruption in the past two days. On Wednesday, Chang Xiaobing, formerly one of China's most senior telecom executives, was handed a six-year sentence, while the former head of the National Bureau of Statistics, Wang Baoan, was jailed for life.
Chinese President Xi Jinping launched a campaign to rid the government, military and major business arenas of corruption some four years ago. Xi has said the drive is necessary because graft threatens the Communist Party's six-decade grip on power. More than 1 million officials have been punished, including Zhou Yongkang, the country's former security chief, and Ling Jihua, the former chief of staff to Xi's predecessor.
The probe into Song began in 2014 after domestic media reported that a unit of state-owned China Resources Holdings deliberately paid too much for three coal mines in the northern province of Shanxi in 2010. A journalist at a newspaper owned by Xinhua said in April 2014 he had reported Song to anti-graft officials, according to China Daily.
— With assistance by David Ramli
Before it's here, it's on the Bloomberg Terminal.
LEARN MORE