Cash-Strapped Le Pen Asks for 'Patriotic' Loans to Fund Party's Campaign
By
Le Pen seeks loans from supporters after struggling for funds

Both French and international banks refused to finance Le Pen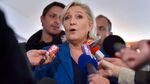 President Emmanuel Macron plans to change the French campaign-finance system by creating a state-backed lender to offer funding to candidates.
Justice Minister Francois Bayrou said the "bank for democracy" will be tied to the state-owned Caisse des Depots de Consignations and will help finance both presidential and local election campaigns.
"It will allow for transparent financing," Bayrou said Thursday at a press conference in Paris. "Less dominant parties have had severe difficulties in finding money."
In the past, only major parties have tended to have access to loans from private banks -- though an unnamed French lender gave Macron an 8 million-euro ($9 million) loan for his successful run for the presidency less than a year after he set up his political movement.
The most obvious beneficiary from the new system might be Marine Le Pen of the National Front, who was beaten by Macron in last month's presidential runoff. Although her party has reached the runoff in multiple elections in recent years -- without winning in the end -- it has not received a loan from a French bank since 2012.
Le Pen's 'Patriotic Loans'
Le Pen on Thursday asked her supporters to stump up as much as 5 million euros for her cash-strapped party by participating in a "risk-free patriotic loan." She says the National Front needs to secure funding for this month's legislative elections.
"The funding system of France's politics is definitely playing against us, it was conceived to help the party favored by the system," Le Pen said in a video on a website dedicated to the loan proposition. "The more lawmakers you help get into the assembly, the better we'll be able to protect you."
The anti-immigration leader is fighting for her political survival after spending most of her party's savings on a presidential campaign that came up short. With many in the National Front unsatisfied with her showing, party executives could challenge her leadership at a meeting later this year if the group fails to make advances in the legislature.
'Shoestring' Budgets
Le Pen promised that the investment -- which would have to be at least 1,500 euros per contributor -- would pay an "exceptional" 3 percent in interest on a one-year loan. A safe-haven asset such as a French three-year government security has a yield of about minus 0.52 percent.
For the National Front, which only had two lawmakers in the previous assembly, 15 seats is seen as the minimum requirement, both politically and financially, since headcount determines the amount of state funding parties receive.
The party has "just over" 1 million euros in reserve to help local candidates and is seeking to raise between 3 million euros and 5 million euros, according to National Front Treasurer Wallerand de Saint-Just.
"Normally, each of the 577 candidates needs about 30,000 euros" -- more than 17 million euros in total, Saint-Just said in an interview. "That means our candidates are running their campaigns on a shoestring."
Racist History
Le Pen said the loan is fully guaranteed because the state refunds almost half of a party's spending if they score more than 5 percent in an election. 
A June 1 OpinionWay poll for Les Echos newspaper showed Macron's Republic On The Move party is on course for a majority in the National Assembly with 335 to 355 seats while Le Pen's National Front is set for between 7 and 17 seats. The Republicans are projected to get 145 to 165 seats, the Socialists between 20 and 35, and the far-left France Unbowed between 24 and 31.
Le Pen, who's running in the northern constituency of Henin-Beaumont, mostly relied on funding from her father and party founder Jean-Marie Le Pen's political fund Cotelec for her presidential run. She said she wasn't able to get loans from French or foreign lenders.
The National Front is still tainted by its racist history, complicating Le Pen's efforts to raise money. French banks have refused her funding for both campaigns, although Paris-based Societe Generale SA did grant her loans for her 2012 presidential run.
'Sleeping Army'
In the past, the 48-year-old candidate has found financial support in Russia. In 2014 First Czech-Russian Bank OOO lent her party 9 million euros. In the same year, Cotelec received a 2 million-euro loan from a Russian-backed fund based in Cyprus, Mediapart reported at the time.
Still, the Central Bank of Russia revoked FCRB's license in July and Le Pen says her Russian contacts haven't helped her get funding for this year's campaign. She met with President Vladimir Putin in Moscow during the presidential race and said during the visit that they didn't discuss campaign finance.
"The system thinks that by cutting us from funding it will slow our progress and silence you," Le Pen said in the video. "But your savings are like a sleeping army and by using it for the National Front and its candidates it's your ideas that will eventually be victorious."
Before it's here, it's on the Bloomberg Terminal.
LEARN MORE