Brexit Bulletin: The Ghost at the Debate
By
Rivals attack May over decision to skip television debate

Overnight poll shows Tory lead down to 3 percentage points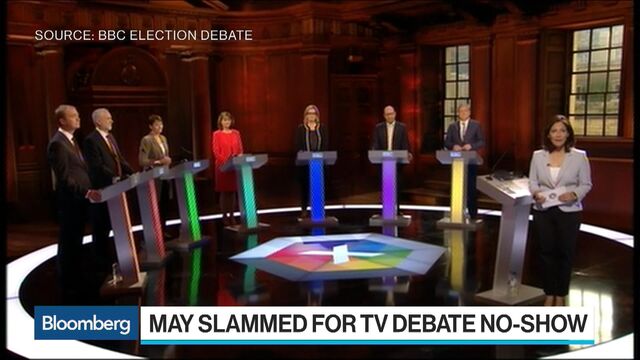 Sign up to receive the Brexit Bulletin in your inbox, and follow @Brexit on Twitter.
The decisive contribution to last night's election debate might just have come from someone who wasn't there.
Labour leader Jeremy Corbyn's last-minute decision to show up put Prime Minister Theresa May in a spot: reverse her decision to stay away, adding to the growing list of U-turns that have damaged her campaign, or expose herself to her rivals' attack with little preparation and a wobbling campaign.
In the end, May stuck to her guns, sending Home Secretary Amber Rudd to take her place in front of the BBC cameras in the university city of Cambridge. Her rivals seized on the decision, saying it proved she's unfit to lead Britain.

"The prime minister is not here tonight. She can't be bothered," Liberal Democrat leader Tim Farron told viewers at the end of the 90-minute debate. "You're not worth Theresa May's time. Don't give her yours." Welsh and Scottish leaders Leanne Wood and Angus Robertson also piled in.
May has seen a lead of more than 20 percentage points over Labour dwindle to as little as 3 points, according to a YouGov poll for The Times newspaper published on Wednesday evening. 
Such a result would put her parliamentary majority in danger and might leave her negotiating with coalition partners at home while trying to broker the terms of Brexit, rather than with the free hand she asked for when she called the snap election in April.
May's absence was even mocked in the Twitter feed for the Netflix series "House of Cards," about a fictional U.S. president. In a post addressed to the prime minister, the show's official account said: "They respect you more when you show strength. Or show up."
Blowhard or Tough Nut?
Theresa May's pitch to voters focuses on the claim that she's the candidate who can get the "best deal" for Britain in the Brexit negotiations.
Accused by TV host Jeremy Paxman on Monday of being a "blowhard who collapses at the first sign of gunfire," May talked up her victories in negotiations with her 27 EU counterparts while working on security and justice issues between 2010 and 2016.
Ian Wishart from our Brussels bureau has taken a look at that record. His conclusion: the prime minister did indeed chalk up a string of victories in Brussels while serving as Home Secretary under David Cameron.
Among those victories were exceptions on security; helping convince the Commission of the need for controls on air passenger data; and persuading the EU to maintain asylum rules at the peak of the refugee crisis. All the same, negotiating Brexit may prove to be a different ball game.
The 'Worst' Deal
May's insistence that "no deal is better than a bad deal" is wrong, according to a report by the Centre for Economic Performance.
Without at least a stop-gap deal to smooth Britain's exit, the U.K. will revert to World Trade Organization rules and that would cut trade between Britain and the EU by about 40 percent over the next decade, according to the report's most conservative projections.
That result would knock about 3 percent off income per capita. If you factor in secondary effects such as the hit to British productivity, the losses could be three times as big.
"In practice the no-deal outcome, where the U.K. and EU trade under WTO terms, is the worst-case scenario for the U.K. economy," CEP economists Swati Dhingra and Thomas Sampson said in the report.
Pound Moves
The pound is increasingly being buffeted by projections of the general election outcome.
First it dropped to a more than five-week low on Wednesday after YouGov projected the Tories may fall short of a majority. Then it rallied after the release of a Panelbase poll showing a 15 percentage point lead for the Tories, even though that survey was carried out more than a week earlier.

The increased sensitivity to polls, no matter their caveats, brings back memories of how the pound traded before the Brexit vote, when individual releases often caused large swings in the currency.
While doubts over polling remain after a failure to predict the U.K.'s 2015 election result, the moves on Wednesday signal how a tightening race has shocked the market out of its pre-election complacency. Measures of expected volatility in sterling that cover the election are jumping, while last week's drop against the dollar was the pound's worst this year.
"Recently we've been relatively agnostic about sterling, but have now decided to underweight the currency for the next couple of weeks," Cosimo Marasciulo, head of European fixed-income at Pioneer Investments, said in emailed comments.
Brexit in Brief
The Bloomberg Brexit Barometer fell again on Wednesday, down to 10.8
The EU financial-markets regulator is trying to make sure member states don't loosen oversight as they compete to attract business from the U.K. It said firms shouldn't be allowed to set up shell offices in the EU if they still conduct critical business in London
German Chancellor Angela Merkel said the EU must focus on its own reforms even as the Brexit talks begin. "We have to make sure that Europe reinforces its strengths," Merkel said in a speech in Nuremberg
The U.K.'s AA credit rating from Fitch is safe for now. James McCormack, the company's global head of sovereign ratings, said the impact of Brexit on U.K. debt will be a "slow-developing story."
And Finally...
With 48 percent of voters backing EU membership in 2016, the Liberal Democrats were hoping for a comeback in this year's election as the most pro-European party on the ballot.
But, as Alex Morales reports, many in the party's former stronghold in southwest England backed "Leave," and leader Tim Farron's promise of another referendum is falling on deaf ears elsewhere. The party is stuck around 10 percent in the polls, barely up from its 2015 debacle.
"There's not going to be a second referendum, whatever Tim Farron says," said Andrew George, 58, the party's candidate for the St. Ives constituency. "All this theoretical posturing is kind of irrelevant."

For more on Brexit follow Bloomberg on Twitter, Facebook and Instagram, and see our full coverage at Bloomberg.com
Before it's here, it's on the Bloomberg Terminal.
LEARN MORE